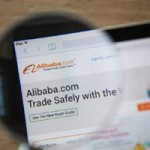 Alibaba Group Holding Ltd. (NYSE: BABA) stock has sold off in 2015, dipping nearly 21% through March 9. On Monday, shares closed at $82.35.
But this is not a time to sell Alibaba stock. In fact, this is the best opportunity for buying BABA stock since the September IPO.
"Most investors are right now looking at the steep skid in Alibaba as a major cause for concern. But I only see opportunity," Money Morning's Executive Editor Bill Patalon told his Private Briefing readers. "I see an opportunity for you to create the kind of wealth that you'll be able to pass along to future generations."