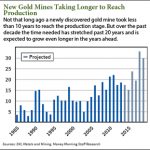 Gold prices must go up, and for the most basic of reasons - supply and demand.
Yet that isn't something you hear much about in the financial media. When most pundits talk about what moves gold prices, they usually focus on things like international turmoil, the direction of the global economy, and the bad habits of central banks.
So most of them have completely missed this irresistible force that will push gold prices higher.