Gold prices will go up, and for the most basic of reasons: supply and demand.
Yet that isn't a factor you hear much about in the financial media. When most pundits talk about what moves gold prices, they usually focus on international turmoil, the direction of the global economy, and the bad habits of central banks.
So most of them have completely missed a trend that will push gold prices to $2,500 and beyond over the next few years.
In short, we're running out of gold.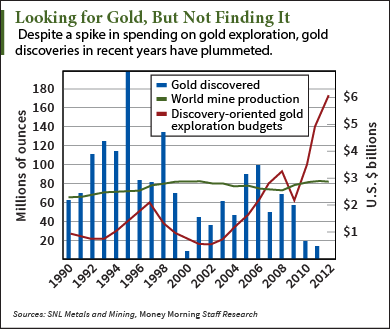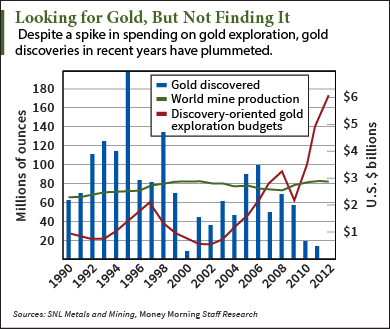 Take a look at this chart. It shows the amount of gold discovered each year (the bars), the price of gold, and worldwide gold mine production.
The blue bars show how the amount of gold discovered has fallen sharply since 2009, and it's not a one-year anomaly.
Nor is it for lack of trying. In fact, gold exploration budgets soared to record heights along with gold prices from 2009 to 2012. And still the gold miners made fewer and fewer discoveries. (Yet the mine production amount has remained steady – more on that later).
"A lot of the low-hanging fruit – deposits that are easier to find – have been picked," said Money Morning Resource Specialist Peter Krauth, a 20-year commodity guru and portfolio advisor. "Companies looking for gold have to go farther, drill even deeper, and look in places that are increasingly geopolitically challenged."
But it gets worse.
Lower Gold Prices Mean Less Money for Exploration
After gold prices fell in 2013, so did exploration budgets. The junior miners, which find the majority of new gold deposits, slashed exploration spending by 40% last year. Exploration spending for this year is expected to drop another 20%.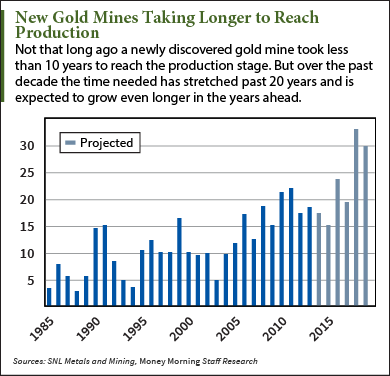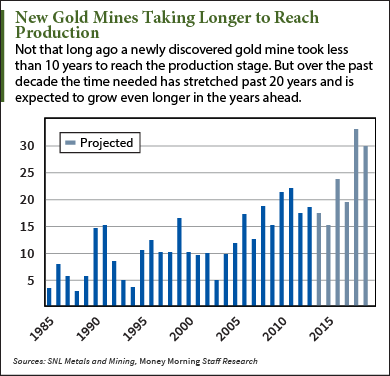 Even if gold discoveries returned to the historic average – which is extremely unlikely – it wouldn't make much difference.
That's because the time to turn a gold deposit discovery into a productive mine keeps stretching – to as much as three times as long.
In 1995 it took about 10 years to go from discovery to production. By 2010, that had doubled to about 20 years. Some discoveries made later this decade could take as long as 30 years to get into production.
With discoveries on the wane and new mines taking longer to go into production, research firm SNL Metals and Mining estimates that global gold production will eventually be cut in half.
But what about that steady green line on the chart that shows consistent production?
That's actually part of the problem…