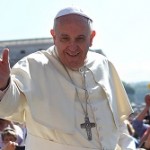 Proclaimeth Pope Francis: "Capitalism is the 'dung of the devil.'"
These were the pontiff's precise words on July 9, 2015, when he delivered an impassioned speech on the bane of capitalism in Bolivia. A little more than two months later and Pope Francis' plane has just touched down in Washington, D.C. - the heartland of capitalism.
But there may be a surprising voice of dissent in the crowd when Francis speaks out against capitalism here in America.