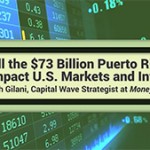 The Puerto Rico debt crisis kicked into full gear this year when it committed the largest municipal debt default in U.S. history...
The island territory revealed it made only $628,000 (1%) of a $58 million debt-service payment that was due Aug. 1, 2015.
In total, Puerto Rico owes $72 billion.