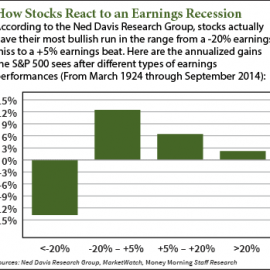 Earnings season unofficially begins on Wednesday, April 8, when Alcoa Inc. (NYSE: AA) reports Q1 earnings after the bell.
Now, most Wall Street prognosticators are bearish this earnings season. Countless headlines of "earnings recession 2015" have caused retail investors to wonder if they should exit the markets.
An "earnings recession" happens when earnings results decline for two consecutive quarters on a year-over-year basis.
It's true, earnings are expected to disappoint across the board this quarter.