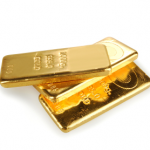 What's going on with gold prices?
With the price of the yellow metal near two-year lows through much of 2013, some investors wonder whether the price decline will continue.
Is this a bear market for gold or will it rebound?
A new report from analysts at Incrementum AG in Liechtenstein says there are good reasons to be bullish on gold, which was trading Wednesday at about $1,252 an ounce.
In fact, the report, titled "In Gold We Trust 2013," set a 12-month target for gold prices at $1,480 and a long-range target at $2,230.