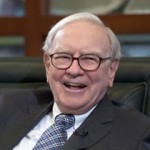 Many "experts" say that they can help you invest like the legendary Warren Buffett.
Most, unfortunately, have no clue how he actually does it.
Even those few who do understand his deep-value investing style are holding something back from you. They'll tell you how you can invest like Warren Buffett while omitting a key detail:
You shouldn't try to.

I know that's heresy in an era when the Oracle of Omaha is rightfully lauded as one of the world's greatest, but simply mirroring what he does will not get you where you want to go. Chances are, it won't produce the returns he gets either.