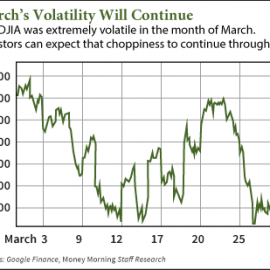 Stock market predictions are typically bullish in April. According to The Stock Trader's Almanac, the S&P 500 has climbed every single April since 2006 by an average of 3.1%. Since 1950, it has been the best performing month for the Dow Jones.
This monthly spike is usually attributed to strong Q1 earnings reports hitting Wall Street. Numerous companies will also raise their guidance figures for the full year in April.
This year, things aren't as bullish in the short term. Our stock market predictions today call for continued volatility into Q2.