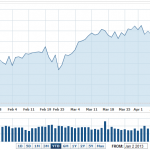 U.S. equities followed Europe's lead and headed higher when the stock market today (Monday) opened.
Wall Street's mood was lifted after Enrico Letta was sworn in as Italy's prime minister, ending weeks of political gridlock in the ailing European nation. The news also propelled Italian stocks up more than 1%.
Shortly before noon, the Dow Jones Industrial Average was up 68.55 points, or 0.47%, at 14,781.10. The Standard and Poor's 500 Index was higher by 8.59, or 0.54%, at 1,590.83. The Nasdaq climbed 26.72, or 0.81% at 3,305.98.
Another lift to the stock market today came from a report on March consumer spending. The read was 2%, much better than and 0.1% rise economists had expected and up from a 0.7% gain in February and a 0.4% advance in January.
With just two more trading sessions left in the month, U.S. stocks are set to end April with gains. That would mark the fourth consecutive positive month for equities.
But it's about that time when the familiar spring swoon weighs on stocks in the near term.
According to data from Bespoke Investment Group, over the past 30 years, an investor who bought the S&P 500 Index every Oct. 31 and sold the following April 30 would have reaped a 898% gain. In contrast, buying every April 30 and selling every late October would have returned just 56%.