Stocks to Buy
The 8 Best Stocks to Buy in 2018
Stocks have been soaring lately, with the Dow rocketing to record highs of 25,000 and 26,000 in 2018 alone.
But the incredible pace of the Dow's growth has investors worried they've missed out on the gains, or that a market correction could end up slashing stock prices.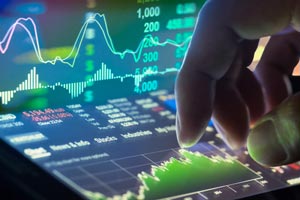 Those are valid concerns, but sitting on the sidelines won't make you any money.
Instead, we're going to show you the best stocks to buy in 2018. These are stocks in well-run, profitable companies in must-have industries. That means these stocks have reliable growth potential no matter what the rest of the market is doing.
Here's our list of the eight best stocks to buy in 2018…
Best Stocks to Buy in 2018, No. 8: Lockheed Martin Corp. (NYSE: LMT)     
Lockheed Martin Corp. (NYSE: LMT) is one of the best stocks to buy now because demand will always exist for Lockheed's products.
The need for national security and defense is eternally important for every country. That means no matter what's going on in the economy, the stock market, or with the talking heads on TV, a leading defense firm like LMT will always be needed.
And this need translates into lucrative contracts for Lockheed.
Life-Changing Profits: The Gains on This One $10 Stock Alone Could Earn You Enough to Retire – Click Here Now for Details
For instance, in Q3 2017, LMT won a $900 million contract to deliver Long-Range Standoff cruise missiles to the U.S. government. Lockheed has also just secured a $945 million modification contract for the production of Patriot Advanced Capability-3 (PAC-3) missiles.
Military spending overall is set to increase by 10% – or roughly $54 billion – according to U.S. President Donald Trump's plan. That's great news for Lockheed, as it's well-positioned to benefit from these new expenditures.
And similar to Lockheed, our next stock pick is cashing in on the same trend…
Best Stocks to Buy in 2018 No. 7: Northrop Grumman Corp. (NYSE: NOC)
Northrop Grumman Corp. (NYSE: NOC) is another one of our favorite defense stocks.
Northrop Grumman is one of the oldest defense companies in the world, with a history going back to 1939, when it was known as the Northrop Corp. Longevity aside, it's also a leader in one of the fastest-growing defense segments: C5ISR.
C5ISR is comprised of:
Command
Control
Communications
Computers
Cyber
Intelligence
Surveillance
Reconnaissance
NOC has been making breakthroughs with its radar, drones, unmanned vehicles, and camera systems. These devices are put to work when certain tasks are either physically impossible for a human to complete or too dangerous in the air, sea, or land. The unmanned vehicles and drones also help protect and save soldiers' lives.
That makes NOC's products urgently necessary for governments and militaries across the world. And its technology doesn't come cheap.
The 4 Cannabis Stocks to Buy Now – Profits of Up to 1,000% Could Be Likely This Election Year!
One of its smaller drones runs $4 million, and the weaponized drones can cost over $40 million. And because these drones are used in risky situations, they need to be replaced frequently. Since 2001, the U.S. Air Force has replaced more than 420 drones, and 20 in 2015 alone. The 2015 replacements were worth as much as $260 million.
As with Lockheed, Grumman is one of the best stocks to buy because its must-have potential leads to lucrative contracts. For example, NOC currently has a more than $80 billion in contracts with the U.S. government to build a long-range strike bomber.
And just like the defense industry, the technology sector has must-have potential…
Best Stocks to Buy in 2018, No. 6: Facebook Inc. (Nasdaq: FB)
Technology companies are historically viewed as risky investments thanks to the 2000-era tech stock collapse. But Facebook Inc. (Nasdaq: FB) is an essential part of life across the world, and CEO Mark Zuckerberg has consistently proven that he is a visionary leader.
Facebook's wide reach alongside its ability to innovate makes it one of the most essential stocks to own. And investors who still believe that Facebook is only a social media company are destined to miss out on owning one of the best stocks to buy right now…
That's because Facebook is growing its revenue through new businesses and applications. These include:
Instagram
Oculus Rift
WhatsApp
Messenger
Workplace by Facebook
But Facebook's business isn't just connecting users through its platforms: It's actually a sophisticated marketing company with unparalleled access to data.
And that's what makes Facebook so valuable…
Facebook's ad revenue topped $10 billion in a single quarter last year. Most of the growth in revenue was driven by mobile ads, which now contribute to over 88% of the company's sales.
Plus, Facebook's acquisitions are building on its advertising reach.
Instagram's user base crossed the 400 million mark in 2015 and hit 500 million daily active users in 2017. Instagram stories, which is a clone of Snapchat, now has 300 million daily active users.
Facebook has over 6 million advertisers, but Instagram has grown its advertiser base to over 2 million. Fortune reports that 98 of the top 100 advertisers on Facebook also have ads on Instagram.
Have 28 Seconds? You Could Make $2,353. Click Here to Learn More…
Another of Facebook's acquisitions, the virtual reality company Oculus Rift, could be worth as much as $120 billion by 2020, according to Digi-Capital. Facebook plans to use Oculus technology to allow for virtual face-to-face meetings in business and healthcare.
WhatsApp, the free messenger app Facebook acquired in 2014, just began displaying ads to its users in Q4 2017. That's an estimated 1.2 billion users across the globe now exposed to Facebook's marketing power.
FB stock is currently priced at $186.56, and with its 42% gain since this time last year, some investors may be hesitant to buy in now.
But Money Morning Director of Technology & Venture Capital Research Michael Robinson says Facebook stock will hit $250 by 2020, which means it has plenty of room to run even higher.
Best Stocks to Buy in 2018, No. 5: Amazon.com Inc. (Nasdaq: AMZN)
Another tech giant worth owning is Amazon.com Inc. (Nasdaq: AMZN).
Led by visionary CEO Jeff Bezos, Amazon has made certain that consumers can buy just about anything they desire online and often receive same-day delivery. The company is also expanding its reach beyond retail.
Amazon remains tight-lipped about how many Prime members it has, but Consumer Intelligence Research Partners estimates that the figure is about 90 million in the United States alone. These are people who pay $99 each year to get free two-day shipping on Amazon and access to Amazon's increasingly expansive media library.
And those customers are a lucrative bunch. Prime customers spend $1,300 per year on average, compared to $700 for non-Prime members. MarketingLand reports that as many as 46% of Prime members buy from Amazon at least once per week.
Amazon reported that it had its best holiday season yet in 2017 and that it set records for the number of purchases through Alexa-enabled devices, such as the Echo Dot. Other bestsellers included the Fire Stick, Fire Tablets, and Kindles, which are all Amazon products.
But Amazon's business expands even beyond books, e-readers, video, music, and devices.
16 New Reasons Why You Could Mint Marijuana Millions: Cannabis stocks could be destined to break all profit records for investors this year – and we've scoured the industry to uncover four stocks to potentially lead the pack…
Amazon Web Services (AWS) is Amazon's cloud computing business, and it's the company's fastest-growing sector. AWS now handles as much as 60% of the data traffic on the Internet. Synergy Research reports that this is more than Alphabet Inc. (Nasdaq: GOOGL), Microsoft Inc. (Nasdaq: MSFT), and International Business Machines Corp. (NYSE: IBM) – combined.
And we're fully expecting Amazon's growth and innovation to continue from here. Robinson calls Bezos one of the "Five Tech CEOs Most Likely to Make You Rich" for a reason.
Best Stocks to Buy in 2018 No. 4: Goldcorp Inc. (NYSE: GG)
As one of the world's largest gold producers, Goldcorp Inc. (NYSE: GG) remains one of the best stocks to buy in 2018.
Goldcorp produced 2.57 million ounces of gold in 2017. While this was slightly down from the 2.87 ounces produced in 2016, the 13.17% gains in the price of gold last year allowed Goldcorp to score even larger annual profits. And as one of the most innovative companies in the gold industry, we expect more cost-saving measures to make GG's profits grow even higher.
Goldcorp restructured its business during the first half of 2016 and has since delivered consistent low-cost gold production.
In 2016, the company had net earnings of $162 million, which was a drastic improvement over its $4.2 billion net loss the prior year. In Q3 of 2017, the company's net income was $111 million, compared to just $59 million the prior year.
And that's just the start of its five-year plan to grow its business.
GG's plan is to grow gold reserves by 20% and reduce all-in sustaining costs (AISC) by 20% by 2021. GG has a goal of slashing its AISC to $700 by the beginning of the next decade, and it appears that its average for 2017 is going to be $825. In 2016, that figure was $856.
As gold prices continue to rise in 2018, so will Goldcorp's profits. And 2018 will be an excellent year for gold.
Best Stocks to Buy in 2018 No. 3: Alibaba Group Holding Ltd. (NYSE: BABA)
Alibaba Group Holding Co. Ltd. (NYSE: BABA) offers the explosive possibilities of Amazon's business model with the growing middle class of China, the world's most populous country.
In fact, Money Morning Executive Editor Bill Patalon calls Alibaba a "single-stock wealth machine."
Bill even predicts a single share of BABA today could be worth as much as $2.1 million in four decades.
That's because Alibaba continues to grow at a mind-blowing rate. Its Singles' Day sales numbers in 2017 topped the prior year's performance by 42%. And even though the share price doubled in 2017, Bill still believes that it's undervalued.
"Federal Rent Checks": Thanks to an obscure law, over 100 government agencies are required to pay rent. By following a simple investment strategy, you could receive checks of up to $1,795 every month. Read more…
Alibaba has a grip on 51% of the Chinese e-commerce market, which Forbes predicts will account for a whopping 60% of the global market share by 2020.
Plus, BABA isn't content to dominate China's e-commerce market…
The company just invested in India's e-commerce market through Paytm. India's market is expected to grow 1,200% over the next 10 years, according to Morgan Stanley.
Best Stocks to Buy in 2018, No. 2: Raytheon Co. (NYSE: RTN)
Raytheon Co. (NYSE: RTN) is another one of our favorite stocks from the defense and security industry. Again, this is an industry that's always in demand, no matter what, and the leading companies can supply you with consistent, profitable returns.
Just consider Raytheon's explosive growth potential.
Cybersecurity has become a growing concern, as high-profile hacks such as the 2017 Equifax Inc. (NYSE: EFX) have become more commonplace. According to Robinson, the federal government dedicated $89 billion of last year's budget to cyber defense, and it appears that there is anywhere from an additional $1.5 billion to $3 billion in the 2018 budget earmarked for cybersecurity.
The cybersecurity market is projected to reach a value of $202.4 billion by 2021. This alone makes Raytheon an excellent long-term hold.
And Raytheon is already pivoting to take a leading role in this burgeoning sector.
The types of projects that the company tackles, as well as its size, give Raytheon an advantage over smaller cybersecurity firms when it comes to securing contracts. In fact, Raytheon has even purchased smaller cybersecurity firms to bolster its capabilities, like when it acquired RedOwl last April.
Not only can Raytheon operate and adapt legacy systems, but it also has the security clearances in place for this type of work, which some smaller companies may not.
Along with Raytheon's robust 1.5% dividend yield, its long-term growth strategy makes this one of the best stocks to buy anytime.
Best Stocks to Buy in 2018, No. 1: Apple Inc. (Nasdaq: AAPL)
Apple Inc. (Nasdaq: AAPL) might be the largest publicly traded company by market capitalization, but it's also one of the best stocks to buy in 2018.
And despite its massive market cap, analysts continue to underestimate Apple's potential.
You see, Apple is moving beyond its famous iPhones and iPads and is expanding into new sectors, including cloud storage and music streaming.
By Q4 in 2017, Apple's service sector made up over 16% of the company's revenue. And that sector continues to grow as Apple innovates.
Start the Countdown: In just FIVE days, you could have a fat check for $23,441 in your mailbox. And the best part is, it's just one short phone call away. Over 80% of eligible seniors may be entitled to this cash. Are you one of them?
In November 2017, Apple launched an app that monitors users' heart rates through the Apple Watch, sending notifications of potential irregularities. By monitoring users' health, Apple's Watch could become essential for healthcare professionals.
Money Morning Chief Investment Strategist Keith Fitz-Gerald sees this technology eventually being subsidized by health insurers. The cost for such preventive technology could save insurers money from larger hospital bills down the road, and Apple's product is leading the way.
If this is the direction that Apple is heading, Fitz-Gerald believes that his $200 price target on the stock will instantly double to $400 long term, easily making Apple one of the best stocks to buy now.
Now that you've seen our list of the best stocks to buy in 2018, you may have a few other questions about investing in stocks. Here are our answers to some of the most popular stock questions…
Are Stocks a Good Investment?
Yes, stocks are a good addition to any investment portfolio. Over time, stocks can be the most successful way to build wealth.
Stocks typically offer higher returns than other investment vehicles, like real estate and bonds. We identify the factors that make stocks a good long-term wealth builder and give investors those picks regularly.
Trading stocks by trying to time the market for short-term gains is much riskier. It can be done successfully – and profitably – but if it's done without proper research and analysis, it often results in big losses.
How Do You Pick the Best Stocks?
One key step to pick the best stocks to buy is to examine a company's earnings reports over time to analyze the firm's financial health. The most important metrics to measure are earnings per share (EPS) and price-earnings (P/E) ratio.
EPS is the portion of a firm's profit distributed to each share of stock. It's the most basic and important number for measuring a company's profitability and helps to calculate valuation metrics like the P/E ratio.
The P/E ratio shows how much investors can invest in a stock to recoup one dollar of earnings. In other words, it shows how much people will pay for every dollar a company earns. The ratio is calculated by dividing the most recent share price by the most recent EPS.
What Are Other Good Stocks to Buy in 2018?
One of the best stocks to buy that wasn't on our above list is Microsoft Corp. (Nasdaq: MSFT). Similar to Apple, Microsoft is outgrowing the products that made it famous.
Microsoft now operates the world's second-largest cloud service, called Azure. The company's Azure revenue has grown 90% over four straight quarters, and Microsoft is even tapping the legal marijuana market to use Azure as a compliance platform.
Because of Apple's strong track record and potential, it's one of our "Fab Five" tech stocks.
And if you're looking for more ways to profit, we've got you covered…
Buy This One $10 Stock Now to Help Build the Retirement of Your Dreams
One tiny company is at the center of a new breakthrough technology that could one day be used by every person and business in the world.
This new tech lets companies detect and prevent cyber-attacks… homeowners avoid break-ins… hospitals better monitor patients and regulate temperature conditions for storing critical vaccines…
And a single company is manufacturing the parts needed to roll out this technology ASAP. It recently inked four major deals that could spark a 466.6% revenue surge.
Early investors could reap huge fortunes. This $10 stock has the potential to deliver a 471.9% gain, turning every $1,000 invested into $4,719. And not years from now, but in just months or weeks.
This gains on this one stock could single-handedly earn you enough to retire. Click here now to learn more…