Stocks to Buy
The 7 Absolute Best Stocks to Buy in 2019 – Plus One "Wild Card"
Get Our 25 Top-Rated Stocks to Buy Now:
Your next BIG returns could come from these stocks, just ranked by our proprietary rating system. To get this week's Top 25 list, click here now.
After a rough end to 2018, the stock market rebounded in the first quarter of this year. The S&P 500 went from 2,351.10 on Christmas Eve to 2,834.40 at the end of March – a gain of 20.5%.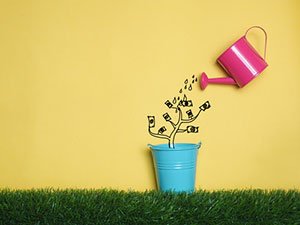 Investors who got scared away by the downturn are kicking themselves now. And if you missed out on that rally, don't fear. Just because the market has made big gains doesn't mean there aren't still profit opportunities out there.
For those looking to capitalize on those opportunities, we're bringing you the best stocks to buy in 2019. These are stocks of well-run, profitable companies in must-have industries. That means these stocks to buy have reliable growth potential whether the market is up or down.
Here's our list of the seven best stocks to buy in 2019, along with our favorite "wild card" stock…
Best Stocks to Buy in 2019, No. 7: Alibaba Group Holding Ltd.
Chinese tech stocks got hit hard in 2018, and Alibaba Group Holding Ltd. (NYSE: BABA) did not escape the downturn. The e-commerce superstar lost more than 35% of its value between June and October 2018.
But that was before yet another huge "Singles' Day." That's the anti-Valentine's Day tradition that Alibaba has turned into the world's biggest annual shopping day. This past November, Alibaba's $30.8 billion in sales for the day beat the previous year's number by 22%. And it absolutely dwarfed the $7.9 billion in Cyber Monday online sales for all U.S. retailers combined.
Since then, Alibaba stock has bounced back in a big way, gaining 33% in the first quarter of 2019.
There's still plenty of room for growth, which is why it's No. 7 on our list of best stocks to buy. According to Money Morning Executive Editor Bill Patalon, Alibaba is a "single-stock wealth machine" – one you can buy and plan on holding for decades to come.
5G Revolution: This breakthrough technology is expected to unleash $12 TRILLION in new wealth… and one $6 stock could be better positioned than any other to skyrocket. Learn more…
There was plenty of nail-biting on Wall Street when it was announced in 2018 that Alibaba's visionary founder Jack Ma would be leaving the board in 2020. But in fact, the care with which Ma's succession has been handled only demonstrates what an exceptionally well-run company Alibaba is.
CEO Daniel Zhang, who will take over as executive chair in 2019, was the creator of the Singles' Day sales event. Since he took over as CEO in 2015, Alibaba became the first Asian company to pass $400 billion in market value and has emerged as one of the top 10 most valuable public companies in the world.
Even as Ma prepares to step aside, there's no reason to think to the company will slow down. And between Alibaba's lean business model – it acts as a digital retail shelf rather than a warehouse – and rapid growth in Asia, this is the online retail giant with the most room to grow in the next few decades.
To give you an idea of the long-term growth you can expect, Bill Patalon says every share of Alibaba you buy – trading at about $185 at the beginning of the second quarter – will be worth $2.1 million in four decades.
That's why Bill says Alibaba is "one of the single greatest wealth opportunities of our lifetime – meaning it's a stock you have to own."
And that's just the first pick on our list of the top stocks to buy in 2019…
Best Stocks to Buy in 2019, No. 6: Wix.com Ltd.
With more than half the world's population now online, according to Statista, it's hard to believe the World Wide Web is only 30 years old as of March.
Web presence has become indispensable for any business of any size. And thanks to our next pick, small businesses don't have to shell out top dollar to get a beautiful, functional website.
Wix.com Ltd. (NASDAQ: WIX) was founded in 2006 to make the website-building process easier. Wix's cloud-based service comes with a wide variety of customizable templates with drag-and-drop functionality. So smaller organizations can learn the ropes on their own and set up and maintain their site with a minimal investment of time.
The real reason Wix is such a great investment is its e-commerce functionality. According to Statista, e-commerce sales in the United States will reach $735.4 billion by 2023, up 64% from $446.8 billion in 2017.
Wix gives sellers access to this booming market for $25 a month, or $195 for the year.
Accelerate Your Gains: Stocks will make you money, but trading can set you up for life. With the secrets in this video series, you could potentially start collecting anywhere from $1,190, $1,313, and even $2,830 in consistent income – each and every week. See for yourself…
Wix's low-cost, high-quality model has earned it a huge – and growing – following. In 2019, just 13 years into its existence, Wix passed the 150 million-user mark. And that user base is growing at a 19% annual pace.
Users who pay for premium services now total 4 million and are growing 26% faster than those using the basic service.
Wix's services are only going to become more essential in the coming years. Cybersecurity Ventures projects that Internet users will grow to 6 billion by 2022, a nearly 50% jump from 2018.
And the web isn't getting simpler, either. Individuals and organizations of all types are going to need dynamic, multi-functional websites that can be easily viewed not only on desktop and laptop computers but on tablets and smartphones.
For those hundreds of millions of potential clients, Wix is going to be the obvious choice.
Money Morning Defense and Tech Specialist Michael Robinson says that makes Wix "one of those stocks that can turbocharge your portfolio for years to come."
Now, let's get to the top five stocks to buy in 2019…
Best Stocks to Buy in 2019, No. 5: Expeditors International of Washington Inc.
You probably don't spend much time thinking about the logistics industry – comprising all those processes involved in getting a product or service from the producer to the consumer – but it is a huge business.
The Council of Supply Chain Management Professionals reported in June 2018 that annual spending on logistics in the United States had reached a record $1.15 trillion, or 7.7% of GDP. That's up $250 billion from the total in 2008.
There are some giant conglomerates out there with large logistics technology divisions, such as Verizon Communications Inc. (NYSE: VZ). The problem in those cases is that logistics represents a relatively small portion of the overall enterprise, and shareholders can't pick and choose which parts of the company they want to invest in.
So we've got a pure play on logistics for you instead: Expeditors International of Washington Inc. (NASDAQ: EXPD). It's a natural choice for our best stocks to buy list.
Headquartered in Seattle, EXPD has 322 locations across six continents. It specializes in supply chain management for all kinds of industries, including autos, aerospace, energy, healthcare, retail, and technology.
Expeditors International works with clients to maximize productivity from order inception to delivery. That might include optimizing production, packaging, and shipment processes. Or it could mean handling shipping and customs: Expeditors have relationships with every major carrier by air, land, and sea.
Where this company really flexes its muscles, though, is in developing custom logistics software. That way, clients can take over the reins of the supply chain themselves, with an interface that works seamlessly with their specific needs.
The company boosted sales by 17.6% in 2018, and its EPS was up 40%. According to FactSet, EPS is projected to keep rising through at least 2021.
And as Michael Robinson explains, this is one company that doesn't have to worry about trade wars.
That's because warehouse space to store goods is at such a premium right now. According to CBRE Group Inc., industrial vacancies have been falling for 34 consecutive quarters.
With demand for space steadily outstripping supply, the companies tasked with moving the stock inside those spaces will have their hands full regardless of any intervention by governments in the next few years.
"Add it all up," Michael writes, "and you can see that Expeditors has the right tech tools at the right time. It's ready for a boom in shipping and logistics."
Here's the next pick on the best stocks to buy list…
Best Stocks to Buy in 2019, No. 4: Waste Management Inc.
While some investors are busy speculating on the next mobile app or wearable device, this pick keeps delivering steady gains by providing essential services that are constantly in demand.
After all, you're not going to stop throwing out your trash any time soon. And neither is anybody else.
For Waste Management Inc. (NYSE: WM), your trash is its treasure.
With more than 21 million customers, WM is the largest provider of waste management and residential recycling services in North America.
According to CSIMarket, Waste Management holds the largest market share in the United States for every major segment of environmental services – and a 37% share overall. That's compared with a 22% share for its top competitor.
But the moneymaking opportunities don't stop when the trash is picked up. WM is also a leader in converting trash to LNG fuel. In turn, that fuel can go into its truck fleet or even into natural pipelines or local electric grids.
In other words, Waste Management is not just a trash company. It's also an energy company.
It's solving one of humanity's more pressing problems – how to deal with a growing population using the same amount of space – by turning it into a new resource for communities and more profits for shareholders.
WM's dividend has increased in 16 consecutive years and currently yields a solid 2%. But that stable income generation hasn't kept WM from being a growth stock. The stock has risen 142% over the last five years, compared to 54% for the S&P 500.
Those gains worked out well for subscribers to Keith Fitz-Gerald's High Velocity Profits service.
In November 2017, Keith recommended a Jan. 19 call option on WM. He recognized that it was a great stock, and an option trade allowed subscribers to put up a relatively small amount of money and enjoy big, fast gains if it did well.
That's exactly what happened. By the time the options expired, about two and a half months after the initial recommendation, they had gained 275% in value.
Don't worry. There's plenty more fuel to propel this stock upward in the coming months and years. And if you want to go for truly fast profits, a call option may be the way to go.
But if you'd rather have a stock you can hold onto forever – or as long as people keep producing trash – Waste Management is exactly that.
Best of all, we still have three more picks on our best stocks to buy list…
Best Stocks to Buy in 2019, No. 3: Intuit Inc.
Nothing is certain but death and taxes. So naturally, the top provider of tax preparation software is one of the most dependable investments you can make.
But Intuit Inc. (NASDAQ: INTU) is much more than its wildly popular TurboTax software. Its QuickBooks software has long been a favorite of small businesses. And in 2014, it launched QuickBooks Self-Employed, tapping into an enormous and growing market.
As of late 2018, the United States was riding an impressive 95-month job creation streak. What's even more striking is that the freelance workforce – now accounting for $1.4 trillion annually – is growing three times faster than the overall labor force.
At this rate, according to a 2017 study by Upwork and Freelancers Union, freelancers will be a majority of the U.S. workforce by 2027.
Unstoppable: While the markets were in a tailspin last October, the Night Trader managed to pull off a perfect track record in closed trades – all with the help of his new Infrared Index. Strike now if you want in…
Some of those new freelancers are making the switch out of pure entrepreneurial spirit, and some are simply adapting to economic realities. Either way, this trend puts Intuit, which already has 5.5 million small businesses and freelancers as customers, in an ideal position to serve this growing segment of the population.
"QuickBooks Self-Employed" is available at a very reasonable subscription price of $10 per month. It allows users to track every aspect of their finances, including mileage for work purposes, and to keep personal and business transactions separate along the way. And it can all be done seamlessly between the user's computer, tablet, and smartphone.
Upgrading to the $17-per-month package gives them TurboTax too, which is fully integrated into QuickBooks to make the user's yearly tax return a cinch. It will even calculate estimated taxes automatically over the course of the year.
Intuit's overall sales grew by 30% year over year in the second quarter of FY2019, and EPS nearly tripled from $0.35 to $1.00.
As the workforce changes over the next decade and more, Intuit is going to be one of a small number of companies prepared to reap the rewards. That makes it one of the best stocks you can buy now.
"This is one of those dependable tech leaders that you can count on for the long haul," writes Michael Robinson, "to keep you squarely on the road to wealth."
Best Stocks to Buy in 2019, No. 2: Nvidia Corp.
The autonomous vehicle market is expected to reach $54.2 billion in 2019, according to Allied Market Research. By 2026, it will be more than 10 times that.
So it's no surprise that we'd have a play on self-driving cars on our list. But you might not know it's a company that used to be known for making graphics cards for video games.
Nvidia Corp. (NASDAQ: NVDA) has been transforming itself in recent years. Now it's a leader in all kinds of game-changing technologies, from cryptocurrency mining to virtual reality to artificial intelligence.
But perhaps most exciting is its Nvidia Drive AGX, a self-driving platform being installed in many auto models currently on their way to sales lots around the world.
That includes Volkswagen AG (OTCMKTS: VLKAF), which has put self-driving capabilities for all its cars in Nvidia's hands. And Drive AGX-equipped cars will be coming soon from Audi AG (OTCMKTS: AUDVF), Volvo AB (OTCMKTS: VLVLY), and Tesla Inc. (NASDAQ: TSLA).
Nvidia self-driving is not just for cars either. Trucks made by PACCAR Inc. (NASDAQ: PCAR) are sporting Drive AGX, and so are fleet vehicles deployed by Deutsche Post AG (OTCMKTS: DPSGY).
A partnership with Daimler AG (OTCMKTS: DDAIF), which makes Mercedes-Benz autos, shows off even more of what Nvidia can do. The voice-activated Mercedes-Benz User Experience (MBUX) learns a driver's preferences over time and can make smart suggestions about music, directions, and various other settings in the car. It converses in plain language and features a beautiful 3D touchscreen display.
Free Book: The secrets in this book helped one Money Morning reader make a $185,253 profit in just eight days. Learn how to claim your copy here…
It's no surprise then that Nvidia's fortunes are skyrocketing. Sales have more than doubled in the last three years, and profits soared approximately 575% in that time.
But as Michael Robinson says, Nvidia "hasn't even hit its stride yet." He sees shares rising 65% in 2019. And as self-driving technology takes over the automotive world, Michael says, "the sky is truly the limit."
That assessment is borne out by our Money Morning Stock VQScore™ system, which gave NVDA a top score. That indicates that it's undervalued and due for a rise.
Keep reading for the No. 1 pick on our best stocks to buy in 2019 list, along with a wild card stock with incredible profit potential…