Stocks to Buy
The Best Stocks to Buy Now in 2017
The best stocks to buy are more important to know now than ever before. There are very few investment vehicles in today's market that will protect your wealth and increase your wealth. But that's what the best stocks to buy offer.
You will earn less than 1% through most savings accounts, real estate is subject to huge taxes and bubbles, and you can't trust bond ratings. That's why we focus on long-term gains with our best stocks to buy now list.
You won't find any speculative stocks to buy here. We also focus on the best stocks to survive a financial free fall, like we experienced when the Dow Jones Industrial Average dropped 10% between January and mid-February 2016.
Stocks with short term gains aren't going to make our best stocks to buy list either. You want stocks that can rise in value over time, and stocks that are profitable no matter what the global market is doing.
In our list, we share eight stocks in a variety of industries that are the best stocks to buy now.
Best Stocks to Buy, No. 1: Lockheed Martin Corp. (NYSE: LMT)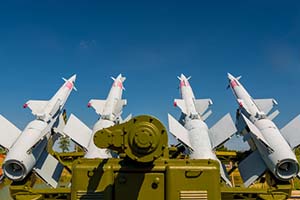 Over the last 12 months, Lockheed Martin Corp. (NYSE: LMT) netted shareholders gains of 23.21%.
And Money Morning Director of Technology & Venture Capital Michael Robinson projects even more gains for patient shareholders ahead…
LMT is one of the best stocks to buy now because there will always be demand for Lockheed's products. Over the next five years, the United States Navy will purchase $81 million worth of submarines and ships. On top of that, Lockheed announced a contract with the U.S. Air Force for $116 million for its Joint Air-to-Surface Standoff Missile-Extended Range (JASSM-ER).
You see, military spending is actually increasing, which means Lockheed Martin will have plenty of customers now and in the future.
The base funding for the 2014 Department of Defense (DoD) was $526.6 billion. In 2015, President Obama's administration requested $560.4 billion for the DoD, and in 2016 the budget was set at $573 billion. The 2016 budget is an 8% increase from 2014, and a 2% increase from 2015.
Analysts at Thomson First Call have a one-year price target of $240.06 for LMT stock. LMT offers a dividend yield of 2.84%.
Since LMT is one of the best stocks to buy now, Robinson recommends grabbing Lockheed shares now before sales skyrocket even further.
Best Stocks to Buy, No. 2: Northrop Grumman Corp. (NYSE: NOC)
Aside from Lockheed Martin, Northrop Grumman Corp. (NYSE: NOC) is one of Robinson's favorite defense stocks.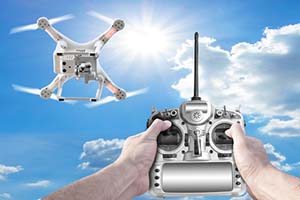 Even though Northrop Grumman has a long history dating back to 1939 (when it was known as Northrop Corp.), it's a leader in one of the fastest growing defense segments: C5ISR.
C5ISR is comprised of:
Command
Control
Communications
Computers
Cyber
Intelligence
Surveillance
Reconnaissance
Grumman is making breakthroughs with its unmanned vehicles, drones, radar, and camera systems. These devices are utilized when certain tasks are physically impossible for a human to complete or too dangerous in the air, sea, or land. These drones and unmanned vehicles are also helping to protect and save soldier's lives.
And these drones aren't cheap, which is great for Grumman's balance sheets…
Robinson states that smaller drones cost roughly $4 million apiece, and drones that are fully weaponized can cost $40 million or more. In 2015, the United States Air Force crashed 20 drones, worth somewhere between $80 million to $260 million.
Just like with Lockheed, NOC is one of the best stocks to buy because it will constantly have repeat business. For example, Grumman received an $80 billion contract from the Air Force to build a B-21 Long range Strike Bomber.
Analysts at Thomson First call placed a one-year price target of $213.07 on NOC.
Robinson states that for a company that makes deadly weapons, it's extremely friendly to its shareholders. NOC offers a dividend yield of 1.5%.
Best Stocks to Buy, No. 3: Facebook Inc. (Nasdaq: FB)
It's true that technology companies are known to be risky, but CEO Mark Zuckerberg has proven time after time that he is a visionary leader.
And time after time, he has rewarded long-term shareholders. Since Facebook's IPO offering of $38 per share, the Facebook stock price has skyrocketed 210%.
And if you still think of Facebook as just a social media company, you're going to miss out on owning one of the best stocks to buy right now…
You see, Facebook is growing its revenue through new businesses and applications. These include:
Instagram
Oculus Rift
WhatsApp
Messenger
Facebook at Work
Zuckerberg has never released revenue totals from Instagram, but analysts believe it was between $650 million to $750 million in 2015. And by 2017, research company eMarketer projects that Instagram will account for up to 10% of Facebook's global ad revenue.
Facebook's Oculus Rift is mostly associated with games right now. Zuckerberg has grander plans, though, and wants to harness the power of virtual reality software to create face-to-face meetings. One example would be meetings between doctors and patients all from the comfort of your own home. Research company Digi-Capital projects that the virtual reality industry will be worth $150 billion by 2020.
Facebook has yet to monetize WhatsApp, Messenger or Facebook at Work. But just from WhatApp, analysts at Sterne Agee project WhatsApp could bring in $1 billion in revenue by 2017.
FB stock has a one-year price target of $142.12, according to analysts at Thomson First Call. That's a
Robinson projects FB will trade for $250 by 2020, making it one of the best stocks to buy now.
Best Stocks to Buy No. 4: Autodesk Inc. (Nasdaq: ADSK)
One of the best stocks to buy now in technology comes from the emerging 3D printing industry.
You may not be familiar with Autodesk Inc. (Nasdaq: ADSK), but it's the 22nd-largest software company in the world. It's also the second-largest computer-aided design (CAD) company in the world.
The 3D printing giant not only makes its own 3D printer known as Ember, but it also runs an open-platform website for 3D printing known as Spark. Already, tech giants like HP Inc. (NYSE: HPQ) and Microsoft Corp. (Nasdaq: MSFT) are using Spark to build designs.
Autodesk is also working with toy giant Mattell Inc. (NYSE: MAT) to build a system for children, parents, and teachers to design their own toys.
While 3D printing may still be in its early stages, the applications are endless. Think-tank Slice Lab used the Ember 3D printer to make a completely line of fine jewelry in just four months.
Right now, Autodesk is trading for $60 per share. But Robinson believes we could see triple-digit gains in just three to four years.
After technology, we found the next best stock to buy in the entertainment sector…
Best Stock to Buy, No. 5: Walt Disney Co. (NYSE: DIS)
Over the last 12 months, the Walt Disney Co. (NYSE: DIS) stock price has dropped 5.55% compared to a 0.74% loss for the Dow and a 1.27% loss for the S&P 500.
But over the last five years, DIS has netted investors 142%.  And we expect even more gains from here…
Money Morning Chief Investment Strategist Keith Fitz-Gerald believes that even though DIS is down in the short term, it still has a very bright future. One of the reasons Fitz-Gerald thinks Disney is one of the best stocks to buy is because of the "Star Wars" franchise. Star Wars: The Force Awakens set box office records in December 2015 with a domestic debut record of $313 million, according to USA Today.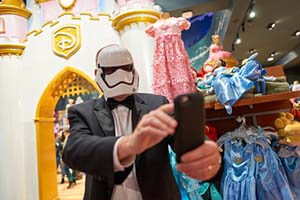 Disney also adjusted its pricing for theme parks, which will ultimately bring in more money during high-demand months. Disney will charge $95 per person during less popular times, but $115 for peak demand.
Disney will also open up a park in Shanghai, China in June 2016.
Thomson First Call analysts have a one-year price target set at $109.86.
Best Stock to Buy, No. 6:  Alibaba Group Holding Ltd. (NYSE: BABA)
Even if the Chinese economy is slowing, Alibaba Group Holding Ltd. (NYSE: BABA) is still one of the best stocks to buy.
Much like Facebook, Alibaba is strategically ingraining itself into the everyday life of the people of China. And much like Facebook's CEO, Chairman Jack Ma is a visionary leader who has done an amazing job at anticipating need.
As early as 2004, Ma saw major flaws in the banking system in China and created a customer-to-customer payment system (Alipay). Ma then extended his reach in the financial world and created a type of money market product calledYu'Bao. This investment vehicle reportedly offers higher returns than the banks in China, and Yu'Bao had 100 million customers in 2014, just a year after it had been created.
Alibaba is also one of the best stocks to buy because it's dominating the Chinese entertainment space. In early November 2015, Ma's company announced it would buy Chinese video site Youku Tudou Inc., which is known as the "Chinese YouTube" It has over 580 million members, according to marketing company DMR.
So whether you bank or want to watch a movie, Ma is making sure Alibaba is involved.
While BABA stock is down 6.68% in 2016, Money Morning Executive Editor Bill Patalon calls Alibaba a legacy stock. That means it's a stock you want to own forever, making it one of the best stocks to buy for long-term growth.
BABA has one-year price target of $90.99, which means you could net profits as high as 19%.
Best Stock to Buy, No. 7:  PowerShares DB Commodity Index Tracking Fund ETF (NYSE Arca: DBC)
PowerShares DB Commodity Index Tracking Fund ETF (NYSE Arca: DBC) serves as an affordable way to invest in commodities futures without physical ownership of the commodities.
DBC is one of the best stocks to buy because it includes 14 of the most heavily traded physical commodities, including:
Gold
Silver
Natural gas
Gasoline
Copper
Aluminum
Corn
Heating oil
Light crude
Sugar
Zinc
Soybeans
Wheat
Brent crude
As investors lose faith in the value of paper money, commodities like gold and silver are viewed as ways to protect your wealth. Investing in this ETF also means that you have exposure to commodities without having to worry about the cost of physically storing gold and silver.
You also gain exposure to oil and gas, which makes your overall portfolio very diverse.
It's true that the DBC stock price has been very volatile over the last 12 months. But shares of DBC are up 12.19% over the last three months. If you're looking for ways to protect your wealth and gain exposure to commodities futures, this is one of the best stocks to buy.
Best Stock to Buy, No. 8:  Phillips 66 (NYSE: PSX)
Phillips 66 (NYSE: PSX) is one of the best dividend stocks you can buy right now. You can either keep the cash from the dividend, or you can use it to purchase more shares.
Whatever you decide to do with the money is up to you, but PSX is one of the best stocks to buy because it rewards patient investors.
Phillips focuses on refining, processing, and marketing oil and natural gas. While oil companies have struggled due to supply exceeding demand, PSX shares are up 1.02% in the last three months.
PSX was able to report $99 billion in revenue in 2015 largely because of its oil refining process. Even though demand may be lower, Phillips makes most of its money from the refining process. So while oil prices and gas prices may be volatile, Phillips is still able to earn money in a beaten down sector.
And if reliance on oil starts to wane, Phillips will still be profitable because of its foothold in natural gas.
In terms of the energy sector, Phillips has one of the best dividend policies. Since 2012, the quarterly dividend for Phillips 66 has roughly tripled from $0.20 to $0.56. The dividend yield is 2.8%.
Are stocks a good investment?
Yes, stocks are a good addition to any investment portfolio. Over time, stocks can be the most successful way to build wealth. They typically offer higher returns than other investment vehicles like real estate and bonds. We identify the factors that make stocks a good long-term wealth builder – like this stock to buy here – and give investors those picks regularly. Timing the market to use stocks for short-term gains is more trading than investing. It can be done successfully, but if it's done without proper research and analysis, it often results in big losses.
How do you pick the best stocks?
One key step to pick the best stocks to buy is to examine a company's earnings reports over time to analyze the firm's financial health. The most important metrics to measure are earnings per share (EPS) and price-earnings (P/E) ratio. EPS is the portion of a firm's profit distributed to each share of stock. It's the most basic and important number for measuring a company's profitability and helps to calculate valuation metrics like P/E ratio.
The P/E ratio shows how much investors can invest in a stock to recoup one dollar of earnings. In other words, it shows how much people will pay for every dollar a company earns. The ratio is calculated by dividing the most recent share price by the most recent EPS.
What are good stocks to buy in 2016?
One of the best stocks to buy for strong returns in 2016 and beyond is Apple Inc. (Nasdaq: AAPL). The most valuable tech company in the world consistently beats earnings expectations and sells some of the most innovative and in-demand tech products. In fact, Apple announced on July 27 it had finally sold 1 billion iPhones. As of July 28, AAPL stock has a low P/E ratio of 11, meaning its trading at a discount right now and is poised for gains this year.