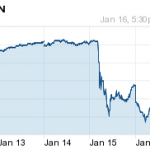 A surprise Swiss Bank policy change shocked the stock market today (Friday)...
On Thursday, the Swiss Central Bank ended a three-year old policy that prevented the Swiss franc from appreciating too much against the euro.
The move sent the Swiss franc soaring 30% against the euro within minutes.
It also caught financial firms unprepared...
You see, the franc is one of the world's most-traded currencies. While holders of Swiss francs realized gains, financial institutions with large holdings of euros or dollars against the franc were routed - especially smaller firms that cannot bear big losses.
And Swiss exporters saw their goods become 30% more expensive to European buyers in a matter of minutes.