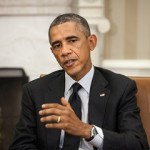 U.S. President Barack Obama doubled-down on his fight against cyberterrorism last week - which means he also delivered 2015's second major "buy" signal for cybersecurity stocks.
The first signal was in early February. That's when President Obama requested $14 billion in his 2016 fiscal-year budget for increased cyber defense. Roughly $5.5 billion of that is requested just for the Pentagon.
"In recent breaches, more than 100 million Americans had their personal data compromised, including, in some cases, credit card information," President Obama said.