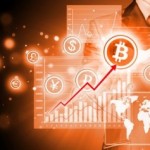 On Sunday the Bitcoin price hit a 2014 low of just under $291 on the CoinDesk Bitcoin Price Index, but as of this afternoon (Wednesday) it had bounced back above $340.
It's just another week in the volatile life of Bitcoin.
But despite all the digital currency's wild ups and downs, the trends that matter have stayed on a remarkably consistent path, utterly unfazed by the gyrations in the Bitcoin price.