Bitcoin's future is more at risk now than at any time in its six-year existence.
A civil war has erupted over the best way to scale the digital currency to handle a larger number of transactions.
Every Bitcoin transaction must be verified by the Bitcoin miners and broadcast to the entire global network. This is done through the creation of blocks on the blockchain. One block is created about every 10 minutes, containing all the transactions from that time span.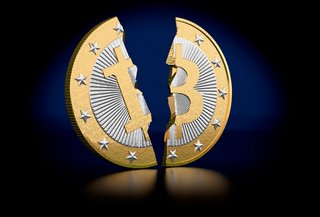 But right now each block is just 1 megabyte in size, limiting the Bitcoin network to about seven transactions per second. By comparison, a credit card company like Visa Inc. (NYSE: V) has the network capacity to execute tens of thousands of transactions per second.
Everyone agrees that Bitcoin needs to be able to handle a lot more transactions per second to become practical. In fact, it's expected that Bitcoin will hit a wall next year or by 2017 at the latest if nothing is done.
The dispute is over how to do it. That's been argued within the Bitcoin community for months.
But the first real shot in this civil war was fired this past weekend by leading Bitcoin developers Gavin Andresen and Mike Hearn. On Saturday, they released a new version of the "node" software that plugs into the Bitcoin network.
As their plan hit the Bitcoin news outlets in the weeks leading up the release, uncertainty started to erode the Bitcoin price. The Bitcoin price is down more than 20% over the past three weeks.
Called Bitcoin XT, the software allows the creation of 8-megabyte Bitcoin blocks. It's a sort of patch to the current Bitcoin Core node software, using the same network and protocols.
Andresen and Hearn structured Bitcoin XT to become the official Bitcoin node software when 75% of users adopt it (but after January 2016). At that point, compatibility with the new 8-megabyte blocks will be required to make any transaction.
Here's why that's such a thorny issue…