According to the IMF, the current Greek debt payment schedule is not sustainable, putting the release of bailout funds on hold. While this may seem like a warning sign for investors, it has actually created a market-beating investment opportunity in the process.
The bailout funds in question are the last installment of the third bailout program started in 2015. The current bailout program goes through the summer of 2018. At the end of the program, EU officials will evaluate Greece's situation and make a determination about debt relief.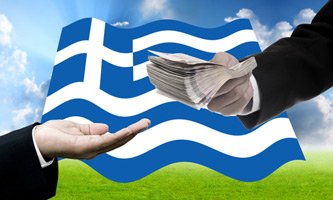 However, the IMF wants to have specific measures laid out before they approve the bailout funds. This deviates from the original agreement in 2015 and is holding up the funds that Greece desperately needs to make its July debt payments.
This delay in bailout funds is putting Greece's ability to pay its debt in jeopardy. At the same time, this dilemma is presenting us a huge profit opportunity thanks to default concerns in the Eurozone...
What Is the Greek Debt Payment Schedule?
Between now and July, the country owes €8.2 billion ($9.2 billion) to short-term Treasury bill holders, with €3.8 billion ($4.3 billion) due on June 9 and the rest due on July 14.
In addition to the Treasury bills, the country owes a payment of nearly €2.1 billion ($2.4 billion) on July 17 for private investor bonds and over €290 million ($326 million) on the second IMF bailout loan.
Don't Miss: This investing strategy has delivered 217 double- and triple-digit peak-gain winners since 2011. And you can get access for just pennies a day. Learn more...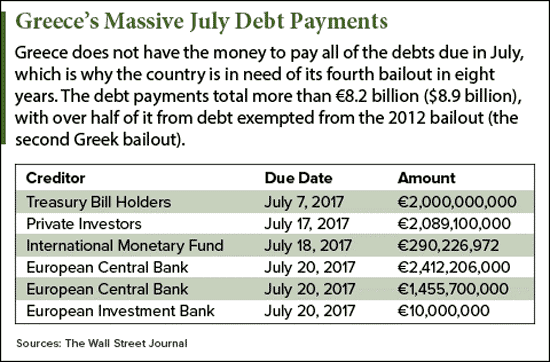 Three payments are due on July 20: two European Central Bank (ECB) bond payments totaling nearly €4 billion ($4.5 billion) and one European Investment Bank (EIB) bond totaling €10 million ($11.2 million).
That brings the total payments to €14.6 billion ($16.4 billion) between now and July. For the rest of 2017, Greece has additional debt payments of approximately €5.5 billion ($6.2 billion).
In short, Greece desperately needs the €7.6 billion ($8.5 billion) in bailout funds. Without them, the country will be unable to pay its debts in July, possibly causing it to crash out of the euro.
The next chance Greece has to secure bailout funds is June 15. Until then, investors will be watching to see if the country continues to service its debt. This uncertainty will cause the euro to drop, offering us a profit play in the process...
Playing the Euro to Profit from Greek Uncertainty