Last week, Federal Reserve Chair Jerome Powell said that the central bank would continue to provide accommodations to bolster U.S. economic growth.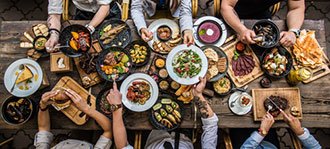 While the economy might be in the final stages of a bull run, central banks around the globe are set to offer rate cuts, new stimulus, and everything else to try to arouse consumer and business spending.
With the unemployment rate and jobless benefit seekers at multi-decade lows, markets anticipate that consumers will continue to see a boost in discretionary spending.
Watch Now: Robert Herjavec is helping everyday Americans discover the next Airbnb. Click here now...
With extra money in their pockets, consumers will start to go out more. People will go to movies, amusement parks, and - of course - go out to restaurants more often.
To find the top companies poised to break out from a rise in consumer spending, investors should turn to the Money Morning Stock VQScore™. This is a proprietary formula that tells you exactly when to buy, sell, or hold a stock.
Today, we are looking at the three best restaurant stocks to buy before the July rate cut.
Restaurant Stocks Sizzle in 2019
Restaurant stocks were on fire during the first half of 2019.
The sector averaged a six-month return of 25.2%, beating the S&P 500 rally of 18.2%.
New partnerships with delivery services like GrubHub, DoorDash, and UberEats have added a new avenue to expand their customer base and more importantly - margins.
Morgan Stanley (NYSE: MS) projects that food delivery services will account for 11% of all restaurant sales by 2020.
Picking the right breakout restaurant stock can be tricky. That's why we turn to the Money Morning Stock VQScore™...
Restaurant Stocks to Buy No. 3