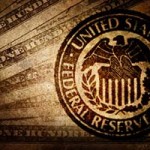 Wall Street and the media breathlessly waited for Yellen & Co. to hike the fed funds target from 0% to 0.25% up to 0.25% to 0.50% - a move that's been telegraphed for months and largely already priced in to the ZIRP-addled markets.
The drama around this move was manufactured. You can't call those rates anything but accommodative.
But with so much focus on the fed funds rate, it's really not surprising that the media missed the fact that the really important rates have been on the move since July.
Meanwhile, "overnight money," money that the central bank loans overnight to banks (and which the Fed influences through open market operations), has barely budged.