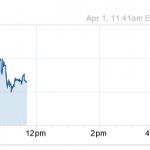 The GoDaddy IPO date is today, April 1, 2015 and GoDaddy stock has begun trading on the New York Stock Exchange.
This is the second time that GoDaddy has attempted an IPO. In 2006 the web company planned to go public but ended up withdrawing its deal, citing poor market conditions.
And because the GoDaddy IPO will be the most talked-about IPO of 2015 so far, we've answered the biggest questions that investors are asking now.