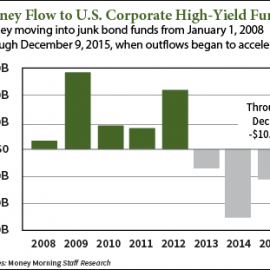 You've just got to love the junk bond market. It's sent stocks on a nice year-end rally for us, and the profits have been sweet.
But don't fall in love with those stocks at these highs. The "help" they're getting from high-yield debt isn't going to last.
In fact, I believe the lull in the junk bond market is going to end in the first quarter of 2016. And I think the ugly sell-off will resume, and that storm is going to take stocks all the way back to their August 2015 lows - and possibly a lot lower.
A lot of people could lose big - well into the double digits - but I'm not worried at all. And when you see the perfect trade I'm about to show you, you'll be ready for the sell-off, too.