Your Advisors
Shah Gilani
- Money Morning - Only the News You Can Profit From.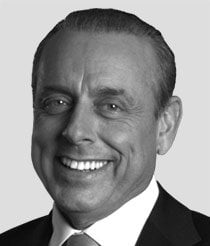 Shah Gilani
Shah Gilani boasts a financial pedigree unlike any other. He ran his first hedge fund in 1982 from his seat on the floor of the Chicago Board of Options Exchange. When options on the Standard & Poor's 100 began trading on March 11, 1983, Shah worked in "the pit" as a market maker.

He helped develop what has become known as the Volatility Index (VIX) - to this day one of the most widely used indicators worldwide. After leaving Chicago to run the futures and options division of the British banking giant Lloyd's TSB, Shah moved up to Roosevelt & Cross Inc., an old-line New York boutique firm. There he originated and ran a packaged fixed-income trading desk, and established that company's "listed" and OTC trading desks.

Shah founded a second hedge fund in 1999, which he ran until 2003.

Shah's vast network of contacts includes the biggest players on Wall Street and in international finance. These contacts give him the real story - when others only get what the investment banks want them to see.

Today, as editor of The 10X Trader, Shah presents his legion of subscribers with the chance to earn ten times their money on trade after trade.

Shah is also the proud founding editor of The Money Zone, where after eight years of development and 11 years of backtesting he has found the edge over stocks, giving his members the opportunity to rake in potential double, triple, or even quadruple-digit profits weekly with just a few quick steps.

Shah is a frequent guest on CNBC, Forbes, and Marketwatch, and you can catch him every week on Fox Business's "Varney & Co."


Shah'S LATEST HEADLINES
Stocks

0

Monday, October 14, 2019

What Wall Street Gets Wrong About This "Kind-Of Rally"

The Dow and S&P 500 both broke three-week losing streaks last week, and the Nasdaq Composite was up for the second week in a row.
We're heading back up closer to all-time highs.

So why do I say this is just a "kind-of rally" with all this seemingly good news?

Last week was an otherwise down week if not for the one positive lifting market on Friday: trade talks.

This was good news, until it was stripped down and re-rated by market judges.

The United States looked like it scored a victory because China agreed to purchase $40 billion to $50 billion in U.S. agricultural products, at least according to the White House, but the time frame of any purchases wasn't immediately clear.

Also, China agreed to open its market to international financial services, again according to the White House. Trump, potentially allowing U.S. banks and insurance companies to expand in China: no timetable there either.

China looks like it scored on account of the United States not moving forward on Oct. 15 with a planned increase in tariff rates to 30% from 25% on about $250 billion of Chinese goods.

But that's not all…

Washington

Monday, September 23, 2019

If You Think the Fed Is Bananas Now, Just You Wait…

Investing Ideas

Wednesday, August 28, 2019

How a Manufactured or Virtual Recession Could Cause a Market Crash

Federal Reserve

Tuesday, August 6, 2019

Here's How to Profit When the Fed Loses Control

Federal Reserve

Monday, July 29, 2019

Here's What the Fed's Really Up to with This Rate Cut

bond market

Wednesday, July 3, 2019

Here's What's Triggering These Massive Bond and Stock Rallies

IPO Watch

Friday, May 10, 2019

Lock Up Your 10-Foot Poles: Uber Is 2019's Stupidest IPO

Shah Gilani

Tuesday, April 23, 2019

Let's Go After Monster Gains While Wall Street's No. 1 Scam Blows Up in Its Face

Best Investments Article

Thursday, April 11, 2019

You Could Own Bottled, High-Profit Lightning for Less Than You Paid for Your Morning Coffee

Investing Ideas

Wednesday, April 3, 2019

Lyft Flies Too Close to the Sun: What Do You Think Happened?
Click here to read more stories