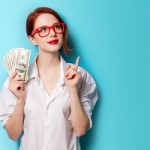 The struggles of Yahoo! Inc. (Nasdaq: YHOO) have been well documented, and CEO Marissa Mayer may be forced to make drastic changes.
Yahoo's revenue declined 7.3% from 2012 to 2014, and Mayer's attempts to increase revenue growth haven't worked. This leaves people wondering, "How does Yahoo make money?"
We have the answers here.