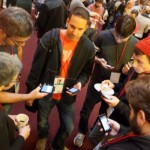 Ever since Samsung and Apple began warning of a slowdown in smartphone growth about a year ago, the gloom-and-doomers have been writing eulogies for the seemingly ubiquitous product.
But they're way off target.
In fact, one of the best investments in tech today is a company that will be the biggest beneficiary of a market that will expand by 70% in just 5 years.