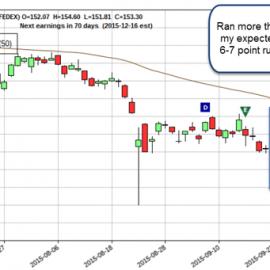 FedEx Corp. delivers "the world on time" to its customers and slow, steady growth - along with a $0.25 dividend - to its shareholders.
In fact, in 1983, it became the first American company to pull in more than $1 billion in revenue without any mergers or acquisitions, and it's been outperforming ever since.
FedEx makes a good, if expensive, foundational holding, but its $44 billion market cap, low volatility, and 282.3 million shares make it close to the last stock you'd ever expect to double your money quickly, let alone in less than three weeks.
But thanks to the easy, inexpensive trade I'm about to show you, that's exactly what happened.