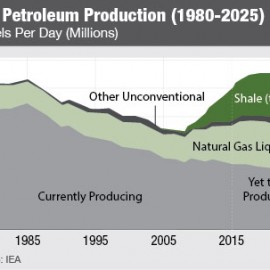 "They couldn't possibly be that stupid"...
That's what my friend John, a London-based trader, said when I called him to verify that he saw what I was seeing on my own trading screens here in the wilds of Oregon.
It was Tuesday morning, November 4, and nearly everything in the energy complex was red.
November West Texas crude oil had dropped to $87.31/barrel, while Brent crude oil set a new two-year low at $91.53. Prices have since dropped to four-year lows of around $75 and $78, respectively.
They could fall even further - all because Saudis started another oil price war.
OPEC's largest oil producer had just announced that they were cutting oil prices for customers in the United States. The idea is to squeeze margins on U.S. shale production to where it's not profitable to produce.
Naturally, the Saudis fiercely deny the notion of a price war. But you don't have to be a genius to read between the lines.
The Saudis are very frustrated that they are losing control over pricing power they've held for decades. It's annoying them to no end. So, they're fighting back the only way they know how in an attempt to shift the balance back in their favor - by starting a price war with the United States. Unbelievably, they think they can win!