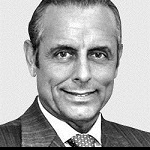 At the end of 2014, we predicted that the coming year would be defined by extreme market chaos. Shah actually called it "the perfect storm of volatility" in his first investor briefing of the year.
Now that volatility is here with a vengeance.
On Monday, the Dow Jones Industrial Average alone dived more than 1,000 points, then surged 900 points... only to drop more than 400 points again. That's a story that repeated itself on indexes worldwide.
The Chicago Board Options Exchange Volatility Index (VIX) surged to a six-year high of 53.29 until volatility swamped the quoting system.