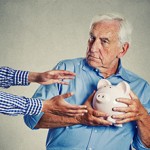 Social Security is unsustainable as it presently operates. The program's cash reserves are expected to diminish completely by 2035. And it may be past time to fix the problem.
Whatever the fate of Social Security, we can be certain of one thing: its initial design has failed us.
There are many who aren't surprised. They say Social Security is, and has always been, one big Ponzi scheme.
The idea isn't for folks in tinfoil hats...
There is real truth to the argument.