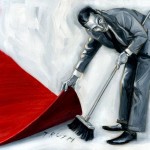 Do you remember the not-so-big-deal legislation known as the 2012 STOCK Act?
That's STOCK as in Stop Trading on Congressional Knowledge.
Of course, our Congress of paid pimps and panderers intended the STOCK Act to show everyone that they were willing to make a law to make sure they wouldn't do what they said they weren't doing.