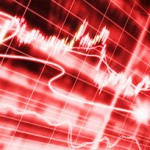 Many investors fear a stock market crash in 2016 as the broader markets continue to drop. So far in 2016, the Dow Jones, S&P 500, and Nasdaq are down 8.6%, 9.9%, and 15.4%, respectively.
A stock market crash is a sudden decline in stock prices across multiple sectors. It's often triggered by fear and panic, which differs from a profit-taking market sell-off.
The most recent example of a stock market crash was in 2008.
The Dow Jones Industrial Average collapsed from its high of 14,164 on Oct. 9, 2007, to 11,000 in early July 2008 - a 22% drop. This was the result of over a dozen big banks failing from high-risk loaning practices. Major financial markets lost more than 30% of their value in 2008, according to Investopedia.