Stock Market Today
A Guide to Investing in the Stock Market Today
There is an absolutely astounding amount of money to be made in the stock market today. Just ask stock market investor gurus like Warren Buffett and Peter Lynch.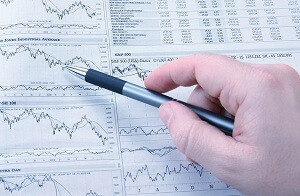 While investing in the stock market today is easy enough, being successful and profitable at it is another story. That's where Money Morning comes in.
At Money Morning, we present investors with many approaches to investing – not one fit is right for everyone.
Many of you want to hold stocks for years, to build wealth that leads to a healthy, rich retirement. We do that and give you those picks every day.
But some of you are interested in short-term gains. You are more traders at heart, or looking to turn $5,000 into much more, quickly. While that style of money making isn't for everyone, we have that to offer to you as well…
First, let's look at the best ways to invest in the stock market today for long-term gains. Then we'll get to quicker profits.
In this guide, we'll provide you with the necessary insight into how to be a smart stock market investor today, and some of the stocks you may want to consider buying into today for potentially considerable gains.
Investing in the Stock Market Today: How to Find the Best Stocks
Successfully profiting from the stock market today requires the application of some sound principles that take discipline, experience, and analysis to see. Investing in the stock market requires a solid understanding of market fundamentals, the ability to evaluate stocks and their companies, and enough capital to absorb any risks.
We can help you with most of that.
How much money you stand to make from the stock market today is determined by the stocks you buy into. Picking the right stocks is key, and the best ones are typically those that are currently undervalued and come from companies with solid fundamentals and a promising future over both the short- and long-term.
Understand current market conditions and events that shape the overall market. There are plenty of things that affect the stock market today, and it's important to keep tabs on them. World events are monumental to affecting the stock market, no matter if they are positive or negative in nature, or where they happen to be occurring. Occurrences overseas can still have a strong influence on U.S. markets.
For instance, the economic slowdown in China had a ripple effect in the United States, putting plenty of investors in a precarious position this year and last. In the first week of 2016, the Dow Jones plummeted as much as 467 points. The Nasdaq lost 2% on the first trading day of 2016 after stocks in China crashed the night before.
The local economy and political stage also heavily influenced the stock market in 2016. Up until recently, the U.S. economy has been suffering, which had a negative effect on the stock market. As well, the fact that 2016 is a presidential election year has an impact on the stock market today.
History has shown that election years – especially those where the current president is not running for another term – have a tendency to subdue the market. Since 1928, the Standard & Poor's 500 has declined an average of 2.8% in presidential election years that don't involve an incumbent looking to be reelected.
Understanding key factors that influence today's stock market can help you more accurately determine what type of market environment you're currently in, which can heavily influence which way the stock market is headed, and therefore help you more accurately predict stock prices.
Pinpoint industries on an uptrend. One of the first things investors should do prior to investing is to identify a particular industry that is growing. These are the industries that should be focused on by investors using the stock market for long-term growth. Stocks within them will be more likely to follow the respective trend, allowing investors to reap the rewards of increases in stock prices.
Our Chief Investment Strategist Keith Fitz-Gerald follows trends like these in his weekly Total Wealth research service. You can follow along for free, and get his stock picks and updates from these "unstoppable" growth trends. You can also get all of Keith's content on Money Morning here.
Determine the financial fundamentals of the company. While many stocks may experience sudden spikes in price, many times the uptrend in price is not sustained. Unless you're day trading, these may not necessarily be the types of stocks you want to invest in if they're not from a strong industry and the underlying fundamentals of the company aren't substantiated.
Buying stocks from a company with limited financial history or strength can be a risky investment. Instead, it's recommended only to buy into companies with solid financial histories that reinforce any possible gains over the short term. Study the firm's 10-K, which is an annual summary of the company's financial performance that the US Securities and Exchange Commission (SEC) requires.
Find out which direction the company's revenue has been trending in, and look into the background of the CEO. Finding a strong company when investing in the stock market is one of the most important tactics behind buying a stock that will likely realize great gains.
Current U.S. Economic Conditions Play a Key Role in Finding Profits from the Stock Market Today
While the U.S. economy endured a lull over the recent past, it's showing signs of strength. The Commerce Department recently revised its Q2 GDP growth estimate to 1.1%, which meets economists' projections. Consumer spending was also revised upward to 4.4% from 4.2%.
A strengthening of the local economy gives investors more spending confidence, and therefore, makes them feel more assured about investing in the stock market today.
On the other hand, the anticipation of a hike in interest rates can have the opposite effect. On Aug. 26, after Federal Reserve Chairperson Janet Yellen made a case for another increase in interest rates by September, stocks were back in the red shortly after. The S&P 500 dipped 0.2%, and the Dow Jones Industrial Average slipped 0.3%.
Interestingly enough, such a possibility of a hike is due to the fact that the U.S. economy and labor market have strengthened enough to warrant it. Yellen said she anticipates moderate growth in the GDP and labor market over the next few years.
Expect the Fed to affect the stock market today and every important Fed day for months to come.
Who to Watch in the Stock Market Today
Considering all the factors to consider when it comes to choosing stocks to buy, the following are a few to keep an eye out for and potentially add to your short list of stock picks.
GlaxoSmithKline plc (NYSE ADR: GSK)
This British pharmaceutical company is responsible for developing, manufacturing, and marketing vaccines and over-the-counter drugs across the globe. The firm provides pharmaceutical and healthcare products in therapeutic areas.
According to the experts at Money Morning, GSK is a stock to watch. The company has a 7-year pact with Alphabet to develop Galvani Bioelectronics. Under the agreement, GSK will control 55% of the firm, and the remainder will go to Verily Life Science, Alphabet's research subsidiary.
The partnership will see Glaxo's expertise in drug discovery and development work with Verily's knowledge of miniaturizing low-power electronics. The early work will center on developing and manufacturing minuscule electronic devices required to test bioelectronic medicine.
Another reason to add Glaxo to the radar is because of its contribution to the world of immunotherapy. The revolutionary area of medicine seeks to replace traditional medicines that fight diseases like cancer with treatments that boost the body's own immune system. Since 2014, this sector has been growing at an annual rate of 7.1%, and immunotherapies is anticipated to make up 60% of the cancer market by 2021.
GSK stock is trading around $43.34 in mid-September, up 7.4% for the year.
TASER International Inc. (Nasdaq: TASR)
TASER International Inc. is an Arizona-based developer, manufacturer, and distributor of tasers, body cameras, and audio-video equipment. The taser's CEWs – otherwise known as "stun guns" – transmit electrical pulses into the body to significantly affect sensory and motor functions of the peripheral nervous system. The company offers tasers for both law enforcement as well as consumers.
As a result of the recent shootings across the country, including in Baton Rouge and Milwaukee, the firm's Axon series of body cameras are garnering plenty of attention. Even before the recent shootings this year, these cameras had already established a loyal client base consisting of 3,500 law enforcement agencies.
Taser is also making money through Evidence.com, a subscription-based website that police and security industry users can use to upload films from body cameras and share them with the world instantaneously. Taser's Axon unit recently announced a partnership with Cradlepoint, a wireless router platform that offers a means for police officers to connect and offload videos from Axon body cameras while still in the field.
Using a social media-type model and applying it to the field of law enforcement has proven to be an innovative and profitable business model.
TASR stock is up 51% this year (as of Sept. 19), trading around $26.10.
Goldcorp Inc. (NYSE: GG)
Vancouver-based Goldcorp is involved in acquiring, exploring, developing, and operating precious metal areas in North, Central, and South America. Thanks to its efforts on slashing operating costs, Goldcorp has become one of the gold mining industry's most efficient gold producers.
Our Private Briefing investment service editor, Bill Patalon, called Goldcorp "the single best gold play out there" in July 2016. Patalon cited Goldcorp's successful efforts in cutting costs as reason this stock will surge with gold prices. The company is working towards producing 2.8 million to 3.1 million ounces of precious metals in 2016 at a cost of $850 to $935 per ounce.
With the climb of gold prices, Goldcorp's margins will grow and its stock price are expected to spike.
Patalon also pointed to Goldcorp's "impeccable" balance sheet – $2.7 billion in debt and more than $3.2 billion in available liquidity.
Goldcorp stock is up 36% this year as of Sept. 19, trading around $15.69.
The Flip Side to Making Money from the Stock Market Today
As promised, let's take a closer look at trading/making moves for short-term market gains.
America's #1 Trader, Tom Gentile, informs readers of these types of market moves and profit opportunities in his Power Profit Trades. For example, when back-to-school time hit the retail sector in late August 2016, Tom told readers about four stocks headed for a bump. While not the best long-term picks, their short-term run up was perfect for Tom's style of trading.
Tom's quick gains are another way to play the stock market today – you can read more on his profit plays here.
Also check out Michael Lewitt's "super crash" preparation and profit guide. You see, Lewitt believes the stock market is headed for a crash bigger than what we say in 2008. Long-term investors can get hurt if they try to time the market. But anyone with available capital can profit when the stock market tanks, if they're positioned correctly.
And that's what Lewitt helps you do in his Sure Money research service. Every week he points out profit opportunities that often come from stocks that are falling. He told investors buying puts on Tesla Motors Inc. (Nasdaq: TSLA) would pay off – and in less than two months they climbed 22%. Get all of Lewitt's profit alerts here.
The Bottom Line on Making Money in the Stock Market Today
Key takeaways:
Dropping capital when investing in the stock market today can be done rather quickly and easily.
However, increasing the odds that the investment is a sound one requires some homework and due diligence.
The key is to find stocks in a fundamentally strong sector and a company that has been thoroughly researched.
Successfully investing in stocks is all about maximizing performance while lowering risk in order to strengthen your investment portfolio.
Follow Money Morning onFacebook and Twitter.
What are the best ways to invest in the stock market today for long-term gains?
One of the best ways to invest in the stock market today for long-term gains is to invest in tech companies. The top tech companies today are building self-driving cars, expanding the capabilities of virtual reality, and developing massive cloud-computing platforms. Investing in companies leading the way in this type of new technology can provide market-beating gains and long-term profit. These companies include: Facebook Inc. (Nasdaq: FB), Amazon. Inc. (Nasdaq: AMZN), Apple Inc. (Nasdaq: AAPL), and Alphabet Inc. (Nasdaq: GOOGL).
What's the best investing advice for the stock market today?
The best investing advice for the stock market today is to focus on unstoppable trends. Money Morning Chief Investment Strategist Keith Fitz-Gerald says knowing how to beat the market means knowing where money will flow. And it's flowing into these six industries: energy, demographics, medicine, war/terrorism, security/allocation, and technology.
Should I invest in the stock market today?
Investing in the stock market today is the best way to grow your money over time. From 1950 to 2009, if you adjust for inflation and account for dividends, the average annual return was 7%. The younger you are, the more valuable your portfolio can become over time. You aren't going to become a millionaire overnight, but buying the stocks of strong companies and holding them can help you grow your nest egg and feel comfortable with your financial situation overtime. For example, Apple Inc. (Nasdaq: AAPL) stock has climbed over 22,000% since 1980. Since 1986, Microsoft Corp. (Nasdaq: MSFT) has climbed over 56,000%.