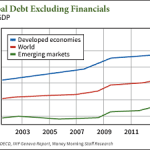 As widely expected, the Fed finally ended its massive bond-purchasing program.
Now the market will turn its focus to interest rates.
Will the Fed raise rates next year? If so, what effects will that have?
The Fed is ultimately reactive, exerting little, if any, control in the long run. Low rates are here only as long as the Fed can manage them.
At that point, it is time to look out.