The Federal Open Market Committee (FOMC) will discuss the timing and trajectory of interest rate hikes today (Wednesday). A change in the Fed's assumed plan - low interest rates into 2015 - would move markets notably.
To be a prepared investor, it's important to understand what happens to stocks when interest rates rise.
The Fed has kept short-term interest rates near zero for almost four years - since December 2008. On Sept. 17, it decided to keep rates low for a "considerable time." It also signaled that might change if it sees signs of a strengthening economy.
We know an interest rate hike is coming - it's just a matter of how soon.
And it's a big deal because it's been decades since this has happened.
In fact, as Money Morning Chief Investment Strategist Keith Fitz-Gerald - a seasoned market analyst and professional trader - told readers Sept. 25, we are about to enter a rising interest rate environment for the first time in 33 years.
Here's what Fitz-Gerald says an interest-rate hike means for the markets...
Higher Interest Rates Don't Cause a Stock Market Decline
Many "analysts" will say that a return to higher rates will shock the economy and cause the stock market to plunge.
Just take a look at some of these October headlines on the subject: "How Low Will Stocks Go" from the Wall Street Journal; "Fasten the Seat Belts on Stocks" from The Boston Globe; and "Warren Buffett Says High Interest Rates Make Stocks Worthless" from Dallas News, to name a few.
Fitz-Gerald also expects the stock market to contract - but not for the reasons everyone thinks.
"As widespread as the belief of an inevitable stock market correction is, it actually belies history," Fitz-Gerald said.
A September 2013 study by Rob Brown of United Capital Financial Advisors illustrates this. Brown found that historically, rising interest rates haven't necessarily caused stock prices to drop.
In his research, Brown looked at stock performance in 12-month periods since 1920 when interest rates had gone up the most. He left out periods during recessions to make the study more applicable to current economic expansion.
Brown found that stocks declined in only three out of the 16 periods of rising interest rates. What's more, the average return for the S&P 500 when rates climbed the most was 12.62% - slightly higher than the 12% return for all periods.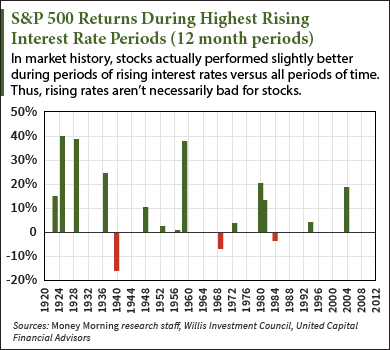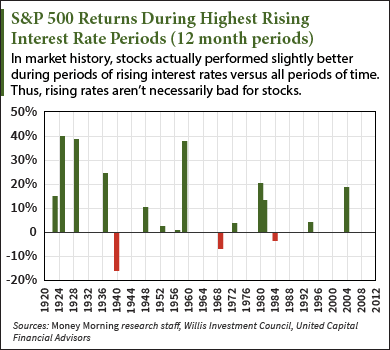 Additionally, since1971 there have been seven periods when the Fed has raised rates.  In each of those, the markets actually gained an average of 19.21%.
"You could easily make the argument that capital is accelerating," Fitz-Gerald explained.
Unfortunately, Fitz-Gerald believes that this time around, we're in special circumstances that are going to cause the stock market to drop once interest rates rise - but that's because of the Fed's quantitative easing (QE) program.
You see, the Fed has been buying billions in bonds since 2008. Its "easy money" policy was supposed to prod Americans to spend and invest more money. That would stimulate the struggling economy.
Instead, Americans have stashed away $10.8 trillion in low-risk, low-yield accounts. To date, roughly 80% of the QE trillions the Fed created sits quietly in Big Bank vaults.
The Fed will cut off QE before it hikes interest rates - and that's going to trigger the market drop.
"Thanks specifically to the Fed, the market's psychology is addictive personality disorder and compulsive behavior," Fitz-Gerald said. "There is no doubt in my mind that the markets will swoon when the free money is actually cut off, or cut out as the case may be."
That calls for a portfolio that can handle the stress of a market correction when interest rates rise.
"Fortunately, there are steps you can take now to survive any market shock, or even profit from it," Fitz-Gerald said.
Fitz-Gerald's got three picks to help you get started...
How to Protect Your Portfolio from Changes in Fed Policy
[epom key="ddec3ef33420ef7c9964a4695c349764" redirect="" sourceid="" imported="false"]
Fitz-Gerald stresses that the best investments are "must-haves" - things that the world needs, like energy, food, and medicine. He advises against betting on fads and other "nice to have" stocks like social media or consumer discretionary items.
"History shows beyond any shadow of a doubt that the "must-haves" will be more resilient and come out in far sharper, far more solid shape when the dust settles," Fitz-Gerald said.
That's why he recommended ABB Ltd. (NYSE ADR: ABB), Becton, Dickinson and Co. (NYSE: BDX), and American Water Works Co. Inc. (NYSE: AWK) to readers in late September. (Get Fitz-Gerald's full breakdown on these three picks here...)
And keep in mind, even with a future interest rate hike and stock market correction, now's not time to get out of the stock market. Last week, Fitz-Gerald showed readers why it's "essential" to stay invested right now...