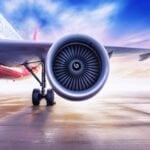 Airlines were some of the hardest-hit stocks during the bear market brought about by the coronavirus.
In fact, the Dow Jones U.S. Airline Index is still down 60.0% today from its Feb. 12 closing high.
Even worse, last week's low was below the initial panic low in March.
In other words, the broad market's rebound happened without any help from airlines at all.
So is it a good time to buy airline stocks?
Money Morning's Capital Wave strategist Shah Guilani says it's "up in the air" in a bad way.