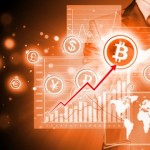 Millions of investors dedicate a portion of their portfolio to gold or some other precious metal as a hedge - as "insurance" - against trouble in other markets.
At its base, this is a sound strategy, because precious metals generally aren't affected by the ups and downs of the stock market.
This isn't a "gold service," however. Our interest is in tech investing. So let's spend today investigating what I think of as "the gold of tech."
Not only can you use this investment as a hedge, but financial players are beginning to eye the technology behind it as way to disrupt the $500 billion payments industry.