Back in 1999, Marc Benioff rented a San Francisco apartment with a mission mind.
He wanted to change the way corporations conduct their business.
It's a familiar story.
After all, thousands and thousands of entrepreneurial techies are still piling into San Francisco apartments every year with big ideas on how to "disrupt" this sector or that sector.
And some of them are very successful.
Just check out what Uber's done to the cab industry.
Marc's goal, however, was much bigger than most Silicon Valley dreams.
He wanted to bring on the end of software as we know it.
And he succeeded.
The sector he established, Software-as-a-Service (SaaS), is now a growth machine.
SaaS will hit $32.8 billion in sales in 2016. That's more than double the sector's $13.5 billion value just five years ago.
Marc believes his company, in the next few years, will be the first software firm for large enterprises to hit $10 billion in annual sales - meaning it owns a huge chunk of SaaS.
And his company is far from done growing.
As it builds up to that $10 billion, this tech stock is poised to climb 100% along the way.
Today I'll show you how it'll get there - and how you can double your money, too...
Fast and Big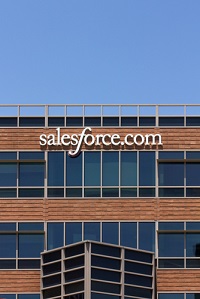 If that $10 billion dream sounds excessive, I understand your skepticism.
After all, it took Microsoft Corp. (Nasdaq: MSFT) 20 years to reach $10 billion in sales - and Oracle Corp. (NYSE: ORCL) 23 years.
But in the next fiscal year alone, sales at Salesforce.com Inc. (Nasdaq: CRM) should hit $8 billion.
To me, with that kind of pioneering spirit, growth, and goals, CEO Marc Benioff's company will clearly be the best cloud-computing investment for 2016 and beyond.
To show you how this company has become so successful, let me set the scene.
From the dawn of the personal computer until just a few years ago, corporations and other large organizations usually got their software through so-called "seat licenses."
In other words, they rented the software they needed - accounting, procurement, document management, sales tools... all that. However, they still took physical delivery of shrink-wrapped software. That meant millions of CDs had to be burned, packaged, and shipped all over the world.
It was a cumbersome and costly process that, in many ways, impeded innovation. Software updates, because they had to be made on disc and then shipped out, often took years.
Today, because of the mission Benioff set out with back in 1999, every major company in the United States performs at least some of its operations through cloud-computing centers that deliver applications and data via the Internet.
The entire cloud-computing field is massive - Market Research Media forecasts annual compound growth of 30% through 2020, when the cloud industry will be worth $270 billion.
The Best Cloud Investment of 2016
Salesforce.com specializes in an area known as customer-relationship management (CRM). It develops sophisticated software tools that help sales representatives - the lifeblood of so many industries - to manage every aspect of how they interact with clients.
It creates software that makes salespeople's jobs easier and more effective - and it does so with tools they can access anywhere.
The company launched its first on-demand CRM service on a subscription basis in February 2000. It has added multiple cloud products along the way.
Today, cloud subscriptions account for 93% of sales, and 88% of Salesforce clients surveyed said they would recommend doing business with the firm.
I already told you that I think Salesforce is the best cloud investment out there. To see why, let's run it through the five filters of Your Tech Wealth Blueprint.
Rule No. 1: Great Companies Have Great Operations
Join the conversation. Click here to jump to comments…
About the Author
Michael A. Robinson is a 36-year Silicon Valley veteran and one of the top tech and biotech financial analysts working today. That's because, as a consultant, senior adviser, and board member for Silicon Valley venture capital firms, Michael enjoys privileged access to pioneering CEOs, scientists, and high-profile players. And he brings this entire world of Silicon Valley "insiders" right to you...
He was one of five people involved in early meetings for the $160 billion "cloud" computing phenomenon.
He was there as Lee Iacocca and Roger Smith, the CEOs of Chrysler and GM, led the robotics revolution that saved the U.S. automotive industry.
As cyber-security was becoming a focus of national security, Michael was with Dave DeWalt, the CEO of McAfee, right before Intel acquired his company for $7.8 billion.
This all means the entire world is constantly seeking Michael's insight.
In addition to being a regular guest and panelist on CNBC and Fox Business, he is also a Pulitzer Prize-nominated writer and reporter. His first book Overdrawn: The Bailout of American Savings warned people about the coming financial collapse - years before the word "bailout" became a household word.
Silicon Valley defense publications vie for his analysis. He's worked for Defense Media Network and Signal Magazine, as well as The New York Times, American Enterprise, and The Wall Street Journal.
And even with decades of experience, Michael believes there has never been a moment in time quite like this.
Right now, medical breakthroughs that once took years to develop are moving at a record speed. And that means we are going to see highly lucrative biotech investment opportunities come in fast and furious.
To help you navigate the historic opportunity in biotech, Michael launched the Bio-Tech Profit Alliance.
His other publications include: Strategic Tech Investor, The Nova-X Report, Bio-Technology Profit Alliance and Nexus-9 Network.