Whether you see it as an example of direct democracy in action or an over-hyped media circus, there's no question that the Iowa caucuses will influence this year's presidential election.
Traditionally, the top three finishers in the Iowa caucuses have had the best shot at securing the Republican nomination for president. And while U.S. President Barack Obama has enjoyed a bit of a surge in the polls recently, he's far from a lock to win a second term.
So investors - regardless of their political affiliation - would be smart to closely consider each potential candidate's economic platform, as well as their chances of winning the nomination.
This year the Republican field is as competitive as I've ever seen. You can make a case for multiple candidates winning the caucuses, and any candidate could be boosted into the thick of the race by a strong finish.
Even the participants that are unlikely to win either Iowa or the nomination have significant strengths and policy ideas that could be absorbed by other candidates.
For investors, there are two criteria: First, how well will a candidate's ideas and personality play in the market and in the U.S. economy? And second, how likely is the candidate to beat President Obama in November 2012?
Generally, a Republican victory in 2012, if accompanied by Republican control of Congress, would be good for the market and would cut domestic public spending below that of a renewed Obama administration. It would also keep taxes lower, although a substantial tax increase is probably inevitable in 2013-14.
A Republican president would repeal Obama's healthcare legislation, although it's unlikely that that would save much money or solve healthcare's funding problems.
A Republican president also would probably replace U.S. Federal Reserve Chairman Ben Bernanke, although a President Mitt Romney or President Newt Gingrich would be unlikely to change the overall "loose money" thrust of monetary policy unless forced to do so.
Most likely Republican candidates would also pursue a more aggressive - and expensive - foreign policy than a re-elected Obama. So unless a real budget-cutter is elected, there will be little improvement in the U.S. budgetary position and a likely worsening in inflation over time, leading to another financing crisis well this side of 2016.
That said, let's take a detailed look at each candidate in this field guide to the 2012 Iowa Caucuses.
Jon HuntsmanJr.
Jon Huntsman, 51, was President Obama's Ambassador to China after being Governor of Utah. In Utah, he increased spending 33% during his term, not a good sign for his ability to balance the federal budget. He also backed "cap and trade" legislation on global warming and the 2007 immigration amnesty bill.
In an attempt to attract economic conservatives, he has put forward a supply-side tax reform, but he appears blocked by Mitt Romney, another moderate Mormon, in his attempt to gain traction. His best shot is New Hampshire on Jan. 10, but unless Romney fades very fast, he's unlikely to go much further. However, he is media-savvy, which could help. Still, he's not viable as a vice presidential candidate for either Ron Paul or Rick Perry, because the neoconservative lobby (which wants an aggressive foreign policy) does not like his fairly dovish foreign policy views.
If by some fluke he won the nomination, he'd have a good chance against Obama, and if elected, he'd probably be quite a good middle-of-the-road president and good for the market.
Rick Santorum
Rick Santorum, 53, was Senator from Pennsylvania 1995-2007, unluckily losing his 2006 re-election bid by 18%. He's the darling of the social conservatives and of the neocon foreign policy hawks, with an economic policy of tax breaks for manufacturing.
He has focused on Iowa, and needs a top-three finish there to remain viable. If he does well, and Romney drops out, his underlying support could propel him forward.
Santorum is knowledgeable but has a rather aggressive personality and can be a wooden speaker. That makes him very unlikely to win against Obama. Though, he might mollify conservatives (but alienate Ron Paul supporters) as a vice president on a Romney ticket.
If elected president, he'd be bad at compromise across the Congressional aisle, protectionist, and probably not good for the market, although smokestack companies might benefit.
Michele Bachmann
Michele Bachmann, 55, is a three-term Congresswoman from Minnesota. She is a strong social and economic conservative with moderate views on foreign policy, voting against President Bush's 2007 Iraq "surge." She won the straw poll in Ames, IA, in August but has faded since.
Still, Bachmann claims conservative purity against other candidates such as Romney, Gingrich, and even Perry. She's knowledgeable but prone to gaffes, and for that reason is unlikely to win the nomination or beat Obama if she did.
It's possible that Bachmann could serve as vice president to Romney, but the Sarah Palin precedent works against her.
Rick Perry
Rick Perry, 61, has been Governor of Texas since 2001. That makes him the longest-serving governor in the state's history. During his time there Perry has presided over an excellent job-creating record (albeit helped by high energy prices).
Negatives are "crony capitalism" deals of state handouts to companies relocating to Texas and his poor debate skills.
Perry is a strong economic conservative. He's proposing a 20% flat tax, opening up the U.S. to major energy production, abolishing three cabinet departments - Commerce, Education, and Energy - and making Congress part-time.
He also has strong Evangelical and moderate social conservative beliefs. His foreign policy remains cloudy but is mildly isolationist.
Perry began his campaign leading in polls, then debate gaffes pushed him down. Focusing heavily on Iowa, Perry needs a top-three finish, but is well funded and could benefit from other candidates dropping out, since his ideas are well suited to the GOP mainstream.
Perry could give Obama a run for his money, provided he survived the debates. As President Perry, he would be strongly free-market and hard-money oriented, with good negotiation skills with Congress but subject to media hostility. Since many environmental restrictions could be removed by executive order, Perry would be excellent for energy sector stocks and probably good for the economy.
Ron Paul
Ron Paul, 76, is a 12-term Congressman from Texas (serving since 1976 with breaks). He was the libertarian candidate for president in 1988 and a GOP presidential candidate in 2008.
Paul is strongly conservative economically, inspired by the Austrian School of economics. He believes in the gold standard, proposes cutting federal spending by $1 trillion in his first year in office, and abolishing departments of Commerce, Education, Energy, the Interior, and Housing and Urban Development.
His foreign policy is heavily isolationist - even pacifist - and his social policy is moderately libertarian.
Paul is a highly eccentric candidate hated by much of the party establishment. He is knowledgeable and gained considerable credibility by accurately predicting the 2008 financial meltdown. His economic policy is popular with party conservatives but not the general electorate. His foreign policy is very unpopular with the GOP establishment but may have considerable hidden appeal to the electorate, especially the young.
Paul is currently leading in the Iowa caucuses by a slim margin, and has good fundraising and excellent organizational capability. If he were to win the nomination, he would have a better shot than most to beat Obama because of his youth support.
Paul has said he won't run a third party candidacy (which would almost guarantee Obama's re-election). However, his son, Kentucky Senator Rand Paul, is less extreme on foreign policy and would make sense as a vice presidential candidate for an establishment figure who wanted to ensure the Paul movement's support.
As president, Ron Paul would have fun with the Fed, but great difficulty assembling legislative coalitions or ensuring party discipline. His tight money policy would be highly beneficial in the long run, but would in the short-run involve a painful weeding out of "malinvestment," which would cause a stock market crash.
Newt Gingrich
Newt Gingrich, 68, is a former 10-term Congressman and served as Speaker of the House of Representatives from 1994-98.
Gingrich has eclectic political views, and a fountain of new ideas which aren't always sound. He can be ultra-conservative or moderately liberal, depending on the issue and the timing - he can be surprisingly supportive of "big government" solutions. He's also fairly "neocon" on foreign policy, though he describes himself as a "cheap hawk."
Gingrich organized the Republican takeover of Congress in 1994, but four years later was ousted by colleagues dissatisfied with his leadership style. Negatives include his post-Speaker lobbying career and his marital difficulties. He's currently tied for the lead in national polls, second in Iowa, and leading in South Carolina (primary: January 21).
Gingrich is short of money and disorganized, so would have difficulty winning the nomination, but might prove a strong opponent for Obama because of his debating skills. As president, he would be center-right, with his greatest achievements through forming bipartisan Congressional majorities. His foreign policy might be expensive, however. He has promised to replace Fed Chairman Bernanke, but it's doubtful he has a hard money commitment like Paul and Perry.
Look for a sideways market with inflation, with military contractors doing well.
Mitt Romney
Mitt Romney, 64, is the former Governor of Massachusetts and CEO of Bain Capital, a highly successful private equity company. Romney is still by far the front-runner for the nomination on Intrade, the political odds-making site.
He's unlikely to win Iowa, but should win New Hampshire and do well in South Carolina, where he has been endorsed by Governor Nikki Haley. Romney has espoused a wide variety of political positions. However, his healthcare plan in Massachusetts, and his father George Romney's political career as Governor of Michigan and 1968 presidential candidate, make me believe Romney would govern to the left of the Republican party, with occasional forays further left as fashionable Washington and media opinion influenced him.
Romney has a 53-point plan for the economy that includes minor and poorly designed tax cuts. He'd have been a great candidate in 2008, as his expertise would have served him well in the September crash. However, Wall Street and private equity-driven job cuts are now politically toxic, so Romney is less certain of the nomination than many think and would be a very vulnerable candidate against Obama.
If (perhaps owing to a "double-dip" recession) he managed to get elected, Romney's economic policy would be close to that of President George W. Bush, although it's likely he would add a trade war with China to Bush's policies. You could thus expect continued anemic growth with "Bernanke-esque" loose-money policy (he has said he would remove Bernanke, but that is most likely a sop to the primary electorate). Short-term, his election would give the market a fillip, but it wouldn't last.
News and Related Story Links:
Here Are 10 "One-Click" Ways to Earn 10% or Better on Your Money Every Quarter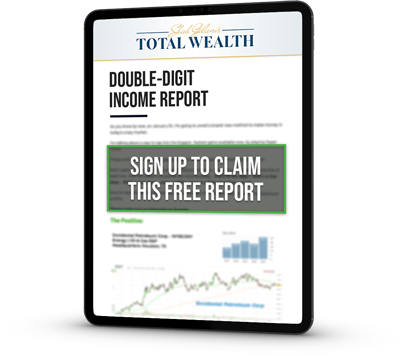 Appreciation is great, but it's possible to get even more out of the shares you own. A lot more: you can easily beat inflation and collect regular income to spare. There are no complicated trades to put on, no high-level options clearances necessary. In fact, you can do this with a couple of mouse clicks – passive income redefined. Click here for the report…