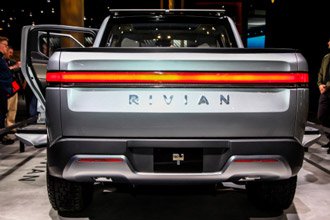 Rivian isn't a household name yet, but it will be soon.
The company has been called the "Tesla Killer." It was valued at $7 billion in December 2019 after receiving over $2.2 billion from startup investors. And that was before it received another $1.3 billion investment from T. Rowe Price Group Inc. (NASDAQ: TROW) in the same month.
T. Rowe Price isn't the only big-name investor. Rivian has been given $700 million from Amazon.com Inc. (NASDAQ: AMZN) and $500 million from Ford Motor Co. (NYSE: F).
Because of those massive investments, retail investors are clamoring for their chance to get in on Rivian stock too.
No Rivian stock IPO date has been set, but it's just a matter of time before this company goes public.
But before we get into whether Rivian stock will be a buy after the IPO, here's how the firm became a multibillion-dollar powerhouse…
What Is Rivian? Behind the $2.2 Billion "Tesla Killer"
Rivian is an electric vehicle manufacturer, best known for its SUVs and pickup trucks.
The company was founded by Robert Scaringe in 2009, after he graduated from MIT. Just 11 years later, the company already has more than 1,000 employees.
Because it remains a private company, financial details are scarce.
We do know the company has massive potential.
Rivian's most notable vehicle is the R1S. It's an SUV meant to rival Tesla Inc.'s (NASDAQ: TSLA) Model X. The company claims the R1S can drive between 240 and 410 miles on a single charge. If true, that would significantly outpace the Model X's range of 237 to 295 miles. Rivian's version is expected to retail between $70,000 and $90,000.
While those expectations are promising, they are still just expectations. Rivian has yet to sell a single passenger vehicle.
7 IPOs in 2021 You Can't Afford to Miss
Seven monster IPOs are on our radar for this year. Get all their names – including the one with the BIGGEST profit potential – in this free report.
By submitting your email address you will receive a free subscription to
Money Morning
and occasional special offers from Money Map Press and our affiliates. You can unsubscribe at any time, and we encourage you to read more about our
privacy policy
.
Thank you for subscribing! Check your email to access your free report.
So why does the company, and a potential IPO, have so much hype if it isn't selling cars?
Jeff Bezos.
The world's richest man and founder of Amazon visited the company's headquarters in Michigan in the fall of 2019. After seeing its operations, he pledged to buy 100,000 of its vans for Amazon's delivery services.
Delivery of these vehicles is expected in 2021. Amazon hopes to have 10,000 of the vehicles in operation by 2022. The full delivery of 100,000 electric vans isn't expected until 2030.
Since then, speculation has run rampant about a potential IPO for Rivian stock.
But does all that hype mean that Rivian stock is a "Buy" after the IPO? Here's the full answer…
Should I Buy Rivian Stock After the IPO?
For advice on how to handle the Rivian IPO, I turned to Money Morning Defense and Tech Specialist Michael A. Robinson.
In his 35 years as a Silicon Valley insider, Michael has seen hundreds (and maybe even thousands) of these "hot" new tech IPOs. There might not be anyone more qualified on the topic.
"For years now, I've advised my readers about how the average retail investor should avoid buying high-tech IPOs when they first start trading," Michael said. "When you buy at the open, you really risk losing your hard-earned money. Problem is, people just can't wait. They want in – and they want in fast."
It's that temptation to buy right at the open that ends up crushing retail investors like us.
You see, the large institutional investors (think big banks and billionaire hedge fund owners) get to buy in at the "IPO price."
So on the day of an IPO, you'll often hear about the stock's IPO price. But that is very different from the "opening price" that you and I can buy in at.
Let's look at the infamous GoPro Inc. (NASDAQ: GPRO) IPO from 2014.
Before shares went public, GPRO set an IPO price of $24 for shares. That's where the big institutions got in. But when the stock opened on the market, demand was so high that shares immediately started trading at $35.76. That's where you and I could have bought in.
Think of that. We would have immediately paid 49% more per share than the Wall Street insiders did.
But that's not where the fleecing ends.
Those institutional investors typically need to hold shares for 90 to 180 days before they can sell. This is called a "lockup period." In the case of GoPro, the lockup period was 180 days.
After 180 days, GoPro stock was priced near $69 per share. Institutional investors who sold then made a 188% gain.
But in the year following GPRO's lockup period, shares tanked an incredible 75%. So if you had bought in at $35.76, you'd have lost 50% of your investment in just 18 months. Today, shares trade for just over $4. That's a loss of almost 89% from that opening price.
No wonder Michael calls IPOs a "rigged game."
Instead, Michael recommends waiting until after the lockup period ends before even thinking about buying into one of these hot tech stocks.
"It's much better to hold off for a little more than six months from when the stock hits the market," Michael said. "That's when insiders can sell, an event that usually means a big drop in price. Then, healthy companies start to see their shares push higher…"
After those six months pass, you'll have two earnings reports that you can review. With those, you'll have a much clearer picture of where the company has been and where it's headed. Plus, shares are typically trading cheaper than they were during the hysteria of the opening.
We recommend this same strategy when it comes to Rivian stock. Leading up to the IPO, very little financial information about the company will be available to you. It's better to wait the six months for the hype to die down and see what you're really getting with the stock.
Action to Take: We're still waiting to find out the Rivian IPO date, but our advice will be the same whenever the company goes public. Wait at least six months after the stock has begun trading before you think about buying in. Continue following along at Money Morning in the lead-up to the IPO. We'll keep you up to date as more details emerge.
BUY THIS, NOT THAT: The Best (and Worst) Stocks in America
Money Morning's chief investment strategist is going live in his first-ever segment of BUY THIS, NOT THAT.
In 30 minutes or less, Shah Gilani is going to run through all 50+ stocks you should know about – for better or for worse.
Shah is not holding back; prices, tickers, and company names will be coming your way fast.
Be ready to take notes! Watch now…
Follow Money Morning on Facebook and Twitter.