Stock market crash talk often picks up in October - the month has a reputation of having the worst performance of the year.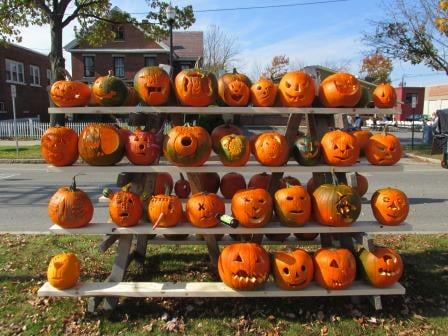 And no doubt the crash talk will intensify this year as well, as the Dow Jones Industrial Average ended October's first trading day down 238 points.
October has an ominous reputation on Wall Street for delivering a stock market crash for good reason; six of the top 11 worst market declines have happened during the month.
But a look at the Dow's overall monthly performance shows October is not the market buzzkill everyone thinks...
October Stock Market Crashes Throughout History
First, a look at how October got its bad rap...
October 2008 was a particularly painful month for investors. The broad-based Standard & Poor's 500 Index fell a punishing 16.79%, spurred by the failure of huge financial institutions and a warning from the head of the International Monetary Fund that the world's financial system was teetering on the "brink of a systemic meltdown."
There's also "Black Monday," which occurred on Oct. 19, 1987. The Dow experienced its largest one-day percentage decline in history on that infamous day, when the blue-chip benchmark plunged 22.6%. Some $500 billion in market cap evaporated from the elite 30-stock index, and markets worldwide tumbled in sympathy.
And then there's the Wall Street Crash of 1929, better known as "Black Tuesday." The sell-off began on Monday, Oct. 28, and picked up steam on Tuesday, Oct. 29. Over the two days, the Dow plummeted some 24.55%, signaling the beginning of the 10-year Great Depression.
Still, investors might be surprised to learn that October, on average, sports stock market gains over the past 20, 50, and 100 years.
Since 1950 through 2013, the broad-based S&P 500 Index has turned in a gain 39 times and fallen 25 times in October. And the Dow Jones has had an average gain of 0.11% during the month of October from 1929 through 2013.
In fact, there's only one month that shows an average decline in the last 20, 50, and 100 years:
The Cruelest Month for the Stock Market Is September, Not October
Since 1929, the S&P 500 Index has declined an average of 1.3% and the Dow has fallen an average of 1.24% in September. It's the only month during which the market has declined more than 50% of the time. All other months, including October, have logged a positive performance more than 60% of the time.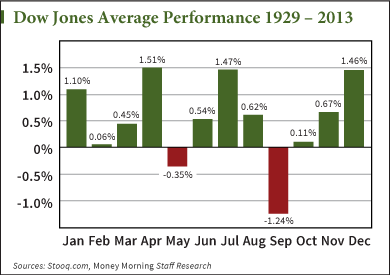 Theories abound regarding the stock market's performance during any month - but none more than for the month of October.
Some believe investment managers and mutual funds seriously get back to work after Labor Day, following a low-volume summer. Looking to improve their performance, they dump their losers prior to closing out the fiscal year, which for many ends in September.
By October, big-money players are sitting on piles of cash they need to put to work before the end of the year. As a result, they start buying.
This October, however, could be different.
The U.S. Federal Reserve will end its market-supportive bond-buying program at the end of the month. The investor-friendly program has acted as a catalyst and cushion for markets since September 2012. The end to the Fed's easy-money policy has investors weighing their options and gearing up for the central bank's next move - hiking interest rates. And that could cause markets to swoon.
But the main takeaway is this: Don't make investing decisions based on a month's "reputation." If you have trailing stops in place and a "to-buy" list written in order to take advantage of market dips, your portfolio will survive - and likely grow - in any month.
Fleeing the market to avoid a possible downward shift is the worst move.
"I'm a strong believer that you have to be in it to win it," says Money Morning Capital Wave Strategist Shah Gilani.
Gilani specifically recommends big cap, high-dividend stocks for weathering any market downturn.
"They'll hold up in a sell-off, and will go back up when the market recovers," he said. "And in the meantime, you'll get the dividend income."
And as for October's scary reputation, famed author Mark Twain said it best: "October is one of the peculiarly dangerous months to speculate in stocks. The others are July, January, September, April, November, May, March, June, December, August, and February."
Don't Miss Today's Top Story: Investors can learn a great deal by taking a moment to explore why Bill Gross took the extraordinary step of leaving the institution with which he is synonymous. Here's what really happened at PIMCO.
Related Articles:
[epom]