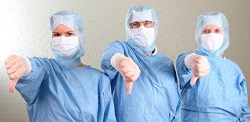 With the three-month Obamacare open enrollment period starting Nov. 1, now is a good time to assess the healthcare law.
It's been two years since the Obamacare health insurance exchanges first opened for business.  And the track record of the law so far isn't terribly impressive.
Some of Obamacare is working. But some parts of the Affordable Care Act (the formal name of the healthcare law) have not worked as intended, and some are simply failing altogether.
It got off to a disastrous start, as the federally run healthcare.gov website famously failed, making it difficult or impossible for hundreds of thousands of people to sign up for coverage. It took several frantic months to iron out all the issues.
Two years later, the Obamacare website is working fine. But you can't say the same about most of the rest of the law.
Let's look at how Obamacare is working, piece by piece…
Is Obamacare Working? Covering the Uninsured
The primary goal of the ACA was to make affordable healthcare insurance available to America's 45 million uninsured. Here significant progress has been made, although not as much as had been hoped.
According to the National Health Interview Survey, the percentage of uninsured has dropped from 14.4% in 2013 to 9.2% in the first quarter of 2015. That means about 16 million Americans have gained healthcare coverage in the past two years. But 29 million people still lack coverage.
Most of those, about 14.1 million, gained coverage by signing up for an Obamacare plan via healthcare.gov or one of the state-based insurance exchanges. The rest, about 2.3 million, were young adults under age 26 who became eligible for coverage under their parents' health insurance.
Overall, we're looking at a 35% decrease in the number of uninsured, the biggest drop since 1965, when the Medicare and Medicaid programs launched.
This is Obamacare's chief success, though it has some way to go. Grade: B+
Things go downhill from here, though…