"The first thing you need to know about Goldman Sachs is that it's everywhere. The world's most powerful investment bank is a great vampire squid wrapped around the face of humanity, relentlessly jamming its blood funnel into anything that smells like money."
The inimitable Matt Taibbi gets well-deserved credit for that exquisite description of Goldman Sachs Group Inc. (NYSE: GS) from his April 5, 2010, Rolling Stone expose titled "The Great American Bubble Machine."
(If you never read the piece, you owe it to yourself.)
Well, the Vampire Squid's at it again...
Not that it hasn't been at it all along - that was the point of Taibbi's warning, that Goldman is everywhere, always looking for the next opportunity.
This is just the latest...
Goldman Gives Tesla Stock an Unlikely Upgrade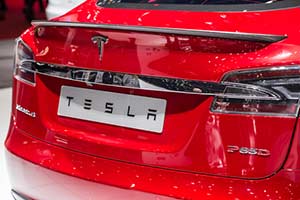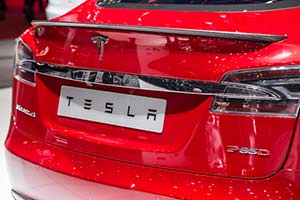 Back on May 18, 2016, right before the market opened, Goldman Sachs analyst Patrick Archambault upgraded Tesla Motors Inc. (Nasdaq: TSLA) from "Neutral" to "Buy" because "there are admittedly fewer visible catalysts than before."
That's a reason for an upgrade?
No, of course not. There was possibly another reason for the upgrade. I'm not accusing the Squid here, just pointing out the obvious, that after the close that day, after the "Buy" recommendation had lifted the stock 3.2%, Goldman was named co-lead, along with Morgan Stanley, in a $2 billion secondary underwriting of Tesla stock.
Pure coincidence, no doubt.
The stock fell 3% in afterhours trading, erasing the fat gain Goldman engineered during regular trading hours.
So, what's the difference? The stock goes up, the stock goes down - it's all in a day's work.
There is no difference. Goldman Sachs, was, as CEO Lloyd Blankfein famously said, just "doing God's work" when it recommended the stock and later announced it was going to earn some fat fees selling more Tesla stock into the market.
This occurred at the exact same time that other analysts, myself included, were scratching their heads over Tesla's prior earnings announcement that they were moving up from 2020 to 2018 their promise to build 500,000 new Model 3 cars per year. That's a stretch, since they're only capable of making, at most, 100,000 cars a year right now.
But I digress.
The timing of the "Buy" recommendation in the morning and the timing of the secondary offering announcement after the close may appear like the jamming of a blood funnel into something that smells like money.
But I can assure you it wasn't.
How do I know there was no money-sucking nonsense, nothing unethical or utterly illegal going on there?
Goldman said so. A spokesperson for Goldman Sachs told MarketWatch, "We followed all of our standard policies and procedures with respect to our research publication on Wednesday."
Don't you feel better?
Surprise: This Isn't the First Time
Incidentally, Archambault didn't change his price target, which he kept at $250. But how he got there again was interesting.
By my own calculations, not only will it be highly unlikely that Tesla will be able to produce 500,000 cars two years from now, but the net 373,000 online "deposits" they wrangled from potential customers can be cancelled at any time. As far as the cost of the new factories, including the big battery factory being built, they had to raise more money because they keep spending it and don't have the revenue to replace what they're burning through. They will be back for more.
I'm not the only person questioning Tesla's numbers and how Goldman's Archambault had to juggle his own version of Tesla's numbers to come up with his $250 per share price target.
Chuck Jones at Forbes wrote that Archambault's "price target calculation is built on five scenarios that include Steve Jobs, Henry Ford, the Maytag Repairman, a Base case, and a Downside case. The first three scenarios have a 11.7% weighting, the Base case is at 45%, and the Downside one is 20%. I guess he backed into the 11.7% weightings after he used the 45% and 20% ones and divided by 3."
That's funny. Jones is saying the numbers don't even add up to $250. It makes sense... because nothing about this adds up.
This isn't the first time that Archambault has coincidentally raised his price target just as Goldman was about to underwrite a sale in Tesla stock.
Back on May 9, 2013, TSLA reported its first-ever (and still only) quarterly profit, and the stock jumped. That same day, Archambault raised his price target from $41 to $65. And a little more than a week later, Tesla sold $360 million in stock with, you guessed it, Goldman underwriting the sale.
Now, that $65 price target was much easier to swallow, especially since TSLA had just reported a quarterly profit and the stock would tack on 38% in the next two days.
I'm sure it's just another coincidence.
Partners in "Crime"
Goldman isn't alone in this sea of coincidences, of course. Not only do all of the big investment banks dabble in this kind of manipulation, Goldman's co-lead in the latest TSLA offering, Morgan Stanley (NYSE: MS), might be the worst of the bunch.
Adam Jonas, Morgan's TSLA analyst, has a history of being overly optimistic when it comes to TSLA's stock price - especially when his employer is directly involved.
In fact, he's doubled his price target for TSLA exactly twice:
On May 14, 2013, just days before Goldman Sachs and Morgan Stanley underwrote a convertible debt offering of $600 million.
On Feb. 25, 2014, just days before Goldman and Morgan underwrote a convertible debt offering worth $2 billion.
And here's something that might come as a shock - according to data compiled by Bloomberg (which has done a terrific job following this story), Archambault and Jonas are not among the five most accurate predictors of TSLA's stock price. Jonas' optimism, in particular, has proven to be consistently misplaced, as TSLA's stock price has never reached his lofty standards.
Of the analysts that cover Tesla, the most accurate have been Colin Langan of UBS and Ryan Brinkman of JPMorgan, who have slapped targets of $160 and $185, respectively, on TSLA.
Those are much more reasonable targets for a company that has only ever reported a single profitable quarter in six years, for a company that lost $889 million in 2015 (after losing only $294 million in 2014), for a company that just missed earnings estimates again and promised instead to push up their date for 500,000 cars produced to 2018 (from 2020).
But it's not funny that Goldman seems to have tripped over itself again.
I mean, that's what must have happened, because they are just too smart to get caught breaking some code of conduct some regulators somewhere put in place to prevent something like this happening and making companies like Goldman and Morgan look like a stain on the fabric of American capitalism.
Or maybe I'm just being naive.
Follow Money Morning on Facebook and Twitter.
This Tiny Disruptor Will Soon Become a Fintech Giant: Financial technology is poised to change the world as we know it. As fintech revolutionizes everything from banking to trading to everyday life, this fledgling company will capture an outsize portion of the massive profits at stake. That's why we're watching it now, before it starts minting millionaires...
Join the conversation. Click here to jump to comments…
About the Author
Shah Gilani boasts a financial pedigree unlike any other. He ran his first hedge fund in 1982 from his seat on the floor of the Chicago Board of Options Exchange. When options on the Standard & Poor's 100 began trading on March 11, 1983, Shah worked in "the pit" as a market maker.
The work he did laid the foundation for what would later become the VIX - to this day one of the most widely used indicators worldwide. After leaving Chicago to run the futures and options division of the British banking giant Lloyd's TSB, Shah moved up to Roosevelt & Cross Inc., an old-line New York boutique firm. There he originated and ran a packaged fixed-income trading desk, and established that company's "listed" and OTC trading desks.
Shah founded a second hedge fund in 1999, which he ran until 2003.
Shah's vast network of contacts includes the biggest players on Wall Street and in international finance. These contacts give him the real story - when others only get what the investment banks want them to see.
Today, as editor of Hyperdrive Portfolio, Shah presents his legion of subscribers with massive profit opportunities that result from paradigm shifts in the way we work, play, and live.
Shah is a frequent guest on CNBC, Forbes, and MarketWatch, and you can catch him every week on Fox Business's Varney & Co.