Billionaire tech entrepreneur and "Shark Tank" host Mark Cuban was harshly critical of Donald Trump's speech at the Republican National Convention last night (July 21).
Cuban launched a series of scathing tweets attacking Trump's talking points in real-time:



One of Cuban's most talked about tweets alleged that a Trump presidency would "end tech progress":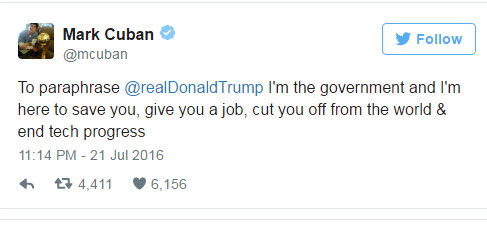 Cuban sent out the tweet shortly after fellow billionaire and tech entrepreneur Peter Thiel gave a speech endorsing Trump.
Opposite of Cuban, Thiel suggested that in fact Trump will rebuild America's failing technological infrastructure.
"It's hard to remember this, but our government was once high tech, too," Thiel said after referencing his Silicon Valley roots. He then said Trump could help end "stupid wars" and "rebuild our county."
In his tweet tirade, Cuban didn't mention Thiel's endorsement of Trump.
On Wednesday, Cuban also appeared on Stephen Colbert's "The Later Show." He performed in a "lightning round" segment on the show where he delivered one-liner insults against Trump. One of his most biting remarks was that Trump was lying about the size of his bank account.
"To be a billionaire, you have to have the billion part in your bank account, not just the air," Cuban said.
Despite Cuban's recent animosity toward Trump, the entrepreneur actually praised the GOP nominee's efforts during the early primaries…
Back in July 2015, Cuban said that the Trump campaign was "refreshing," during an ESPN radio interview, although he also mentioned his reservations about the real estate mogul, saying that he probably wouldn't vote for him.
Mark Cuban speaks about Trump on ESPN's "The Herd" radio show.
In a separate instance, writing on his Cyber Dust application in July 2015, Cuban said that Trump was "probably the best thing to happen to politics in a long time."
In November, Cuban also praised Trump during a FOX News interview for being "assertive" and "not afraid to say exactly what's on his mind."
Up Next
So, the markets keep going up…
And as a savvy investor, you know not to work against the tide, but to use it to your favor.
Here are some of the best profit-making opportunities to take advantage of current market conditions.
Tell us what you think about Cuban's latest Trump criticisms on Facebook and Twitter.
Related Articles: