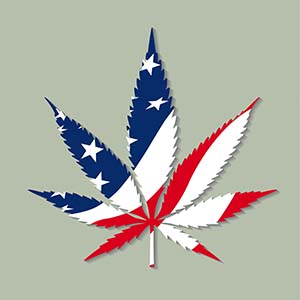 Marijuana shops in Colorado set new revenue records in September, and that's why we have our eyes on three marijuana stocks to watch for 2017.
According to The Denver Post, sales of recreational and medical marijuana totaled $94.7 million in September 2015. In September 2016, those numbers skyrocketed to $127.8 million in sales.
That's a 34.95% increase in sales in just 12 months. September 2016 also marks the third consecutive month of new sales records for marijuana in Colorado.
From January to September, marijuana sales have generated $974.3 million in Colorado. In that same time frame last year, sales were $733.8 million.
That's an increase of 32.77%.
And with the legalization of recreational marijuana in California, Massachusetts, Nevada, and Maine, you can expect other states to start generating millions and eventually billions of dollars by taxing marijuana sales.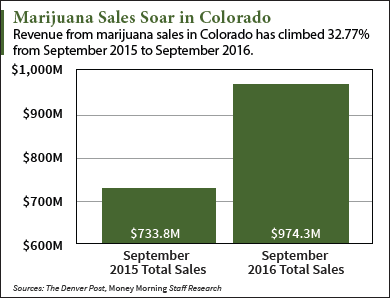 But the states aren't the only ones who will profit…
You see, some are calling marijuana the gold rush of the 21st century. Everyday investors are already plotting seven-figure weed windfalls with the top pot stocks from every ecosystem -growers, edibles, dispensaries, and more.
That's why today, we will provide Money Morning readers with the opportunity to receive a free 90-page cannabis investing guide called "The Roadmap to Marijuana Millions."
We'll get to that in just a bit.
But first, we wanted to share with our readers three marijuana stocks to watch for 2017…
Marijuana Stocks to Watch No. 3