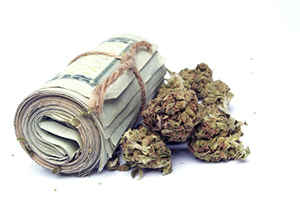 Legalized marijuana in California will create a billion-dollar industry in the Golden State, and investors have been asking us about marijuana investment opportunities.
"At this point, it's impossible to know the full economic impact, but it's safe to say it will be in the billions," Money Morning Director of Tech & Venture Capital Research Michael A. Robinson told me on Nov. 8.
Recreational marijuana initiatives also passed in Massachusetts and Nevada, which is good news for the marijuana industry.
Votes to legalize recreational marijuana in Maine are still being counted.
But legalization of marijuana in California is the industry's biggest win from the election because of the state's size and prominence in cutting-edge issues.
"Approval of recreational marijuana use in California would rank as the tipping point in the drive toward full national legalization," Robinson told me.
"Fact is, California stands as one of the world's largest economies, so just the sheer volume of sales in the state would be massive. As we have seen with things like environmental legislation and gay rights, the state is on the cutting edge of major issues that have socioeconomic impacts. Other states will look at California's success in rolling this out as their model for legislation," Robinson said.
But investing in marijuana stocks is still viewed by some as taboo. And it's not always easy to find the best marijuana investment opportunities.
That's why today, Money Morning is showing you four marijuana stocks that either sell or use marijuana products, or have direct investments in the marijuana industry that will increase their revenue totals. Plus, we'll show you how you can get a copy of our 90-page marijuana investment guide.
And the first stock has already skyrocketed 549% in the last 12 months, even before cannabis in California was legalized...
Emerging Marijuana Stocks
Penny stocks are risky, and they need a major catalyst for the stock price to climb.
And legalized recreational marijuana use in California is exactly the type of catalyst that can make the mCig Inc. (OTCMKTS: MCIG) stock price climb.
MCig is one of the emerging companies in the marijuana industry investors need to know about.
The Nevada company offers solutions for marijuana growers like cultivation rooms, marijuana greenhouses, products for home growers, and vaporizers.
MCig also owns Rollies LLC, a subsidiary that provides various pre-rolled smoking tubes.
But as more and more states in the United States legalize recreational marijuana, profits should climb.
And another boon for mCig is Canada.
In 2017, Canada will vote on marijuana legalization. Ahead of the vote, mCig has already received a large purchase order. On Sept. 19, mCig reported it had a $100,000 purchase order from a Canadian partner.
Special Report: Cannabis Is The Gold Rush of the 21st Century. 30 Stocks to Invest in Now.
For a company that reported gross profit of $108,051 in 2015, that's an important order. It shows that demand is increasing, and mCig will be at the center of servicing the needs of the marijuana industry.
MCig announced its 2016 fiscal-year results on Sept. 1 and reported revenue of $1.7 billion. That's an increase of 238% compared to the previous year.
Gross profit also climbed from $108,051 in 2015 to $290,774 in 2016. That's an increase of 169%.
It's true mCig only trades for $0.17 per share, and profits are low right now. But for investors who understand the risks, mCig could be a very profitable investment.
If penny stocks don't fit in with your long-term strategy, there's a well-established pharmaceutical company at the forefront of the marijuana industry we have our eye on...
Pharmaceutical Marijuana Stocks  
GW Pharmaceuticals Plc. (Nasdaq ADR: GWPH) was founded in 1998. It has operations in the United States and the UK and is considered a world leader in the development of plant-derived cannabinoid therapeutics.
GW developed the world's first prescription medicine derived from a cannabis plant, known as Sativex. Sativex is approved in over 29 countries outside of the United States, and it treats spasticity caused by Multiple Sclerosis.
GW's lead product candidate is Epidiolex, which is designed to treat rare epilepsy conditions where there are limited or no approved treatment options.
According to GWPharm.com, it has commenced clinical trials for Epidiolex so GW can provide the FDA and other regulating authorities with safety and efficacy data. Providing this data is necessary for the approval of Epidiolex as a prescription medicine.
You see, marijuana is currently classified as a Schedule I drug. A Schedule I drug is currently not accepted for medical use.
But the legalization of marijuana in California and other states could help to get it reclassified, which would make it easier for GW to create more plant-derived cannabinoid therapeutics.
Over the last 12 months, the GWPH stock price has climbed 38.75%. And over the last five years, GWPH has significantly outperformed the S&P 500.
In the graph below, you can see GWPH has climbed 1,266.37%, while the S&P 500 has climbed just 86.73%.
Aside from these two stocks, there are two other companies in the marijuana industry Robinson is watching. Both companies have strong business models outside of the marijuana industry. And their recent investments in marijuana could generate billions in revenue outside of their core business.
These are the two marijuana-related stocks you need to know about...
Investing in the Marijuana Industry