These days, it looks like a simple tweet from the president can send the market spiraling down or surging higher. Wall Street has found its answer by introducing an index that measures the impact of those tweets, called "Volfefe."
That sounds like the right idea in this new era. But it doesn't quite tell the whole story.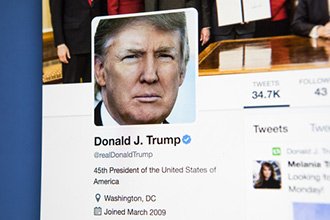 The president's tweets could inform you on some stocks likely to pop that day. Not only does that limit your stock choices, it also limits your investment options.
For instance, trading options. There are probably options trading strategies with stocks that aren't impacted immediately by a tweet but will move considerably down the road.
Options trading is just one example - and you can make a killing trading options vs. stocks.
But don't get the wrong idea - the tweets still have impact. There's just more information behind the market's ebb and flow.
And knowing that information can help you beat the market...
What You Should Know About Trump's Tweets
[mmpazkzone name="in-story" network="9794" site="307044" id="137008" type="4"]
Right now, we're getting it straight from the guy at the top instead of a vague "sources say" type of news report. And with this ability for a tweet to move the market, traders are finding new ways to profit on fast and volatile market shifts.
Created by JPMorgan Chase & Co. (NYSE: JPM) just last month, the "Volfefe" index measures the impact of U.S. President Donald Trump's tweets on U.S. bond yields. It's named after one particularly famous presidential tweet. It combines "volatility" and the infamous word "covfefe."
Recall back in May of 2017, when President Trump sent out an apparently abbreviated tweet, "Despite the constant negative press covfefe." It was a mistyping of the word "coverage," but the tweet was never finished, never amended, and finally deleted.
The Volfefe index has gained popularity in recent weeks. But the question remains how much a tweet can affect the stock market - and whether this can help with your investment results.
$1 Cash Course: Tom Gentile is offering a rare opportunity to learn how to amass a constant stream of extra cash - year after year. And he's going to teach you how to do it entirely on your own. Learn more...
No doubt, we've all noticed the president tweeting about the Fed, China, the dollar, tariffs, and other important topics for investors. The index attempts to explain a measurable fraction of the moves in two-year and five-year Treasury notes, which then affect stocks.
These tweets can work in your favor as an investor. But there are other options investors can consider that account for more of the market's movement...
A Better Way to Profit on Trump Tweets
The Volfefe index is great for the professionals trading in these markets, but it is not so easy for the rest of us.
In fact, JPMorgan admits only 146 out of 4,000 tweets from the president made during regular market hours actually moved the market.
Our takeaway is that Trump tweets can move markets, and the president has been tweeting at a higher rate in recent weeks. That just means more volatility.
According to Bank of America Merrill Lynch, abundant tweet days are usually negative days for stocks. Days when tweet activity is lower are usually more positive.
But how exactly can we make money from this? Sure, we can look to buy stocks when the president is not tweeting and sell them when he is, but that is all short-term stuff.
We've got a better idea for predicting market movement. This can make you money over the next weeks and months, not just intraday.
Money Morning's options trading specialist, Tom Gentile, has a tool for you to use called the Money Calendar. It crunches through thousands of stocks and years of data to find the ones that can actually make you real money.
One of Wall Street's secrets is that stocks - and entire markets - tend to move in patterns that form over and over again. They can change depending on a regular cycle of strength and weakness due to the seasonality, or patterns that form due to investor fear and greed.
Tom's calendar zeros in on stocks that are about to make their big move.
Get Access to America's No. 1 Pattern Trader Cash Course (for Just $1)
Tom Gentile's seven-day Cash Course covers all the essential trading ideas you need to know to get the most out of your potential profits in 2019.
And not only will Tom review the basics, he'll share dozens of his most lucrative secrets to potentially start collecting anywhere from $1,190, $1,313, and even $2,830 in consistent income - each and every week.
All of this and more can be yours for only $1.