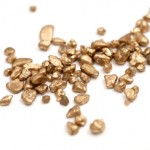 After hitting its 12th straight year of new highs, gold prices got off to a bumpy start in 2013.
"Dr. Doom" Marc Faber even came out Tuesday with a reduced price prediction for gold.
In a CNBC "Squawk Box" interview, Faber said, "I don't think [gold] will go up right away, and we maybe have a correction of 10 percent or so on the downside."
Faber had also estimated a gold price range in his JanuaryMarket Commentary of "... perhaps down to between $1550 and $1600."
But any gold price correction would be a short-term move. Even Faber admitted central bank action is a reason to bet on higher gold prices for the long term.
That's why investors should look at any price correction in gold as an opportunity to stock up.
By Thursday, the yellow metal jumped 1% after the European Central Bank left interest rates the same and the euro rose against the dollar. The February gold contract jumped $20.90 (1.3%) to $1,676.40 per troy ounce.