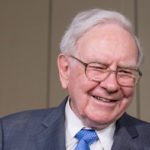 Warren Buffett's most recent SEC filing showed that Berkshire Hathaway (NYSE: BRK-A) purchased 20.9 million shares of Barrick Gold (NYSE: GOLD) in the second quarter.
This raised some eyebrows as Buffett has been pretty outspoken about his dislike of precious metals investments over the years.
In reality, it is unlikely that this was Buffett's call.
Rather, it was probably one of the other portfolio managers at the firm - Ted Weschler or Todd Combs - who each manage about $15 billion of Berkshire's investment portfolio.
The total purchase of Barrick Gold cost Berkshire $562 million, which is relatively small for Buffett, and more in line with Ted or Todd's position sizing.
In spite of that, the headlines screamed Buffett buys a gold stock.
And the headline traders piled in moving the stock price about 11% higher on Monday.
Today, I'll break down what the average retail investor should do with Barrick Gold stock now...