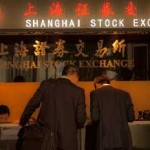 Another China stock market crash happened again today (Tuesday) as the Shanghai Composite dropped 6.4% to close at 2,749.79.
The drop in China's stock market was attributed to a renewed slide in oil prices, and mounting concerns about capital outflows ignited a late session sell-off and sparked investor panic.
The crashing Chinese stock market has had a major impact stateside, with the Dow Jones Industrial average falling 7.5% to open 2016. That's why we're talking with Money Morning experts about what a China stock market crash means for your money.