Chinese stocks were down again today (Monday) as the Shanghai Composite Index fell 0.8%. China's stock market has now fallen roughly 38% since mid-June.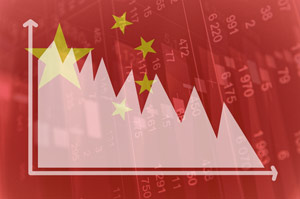 The drop comes after two consecutive days of gains for Chinese stocks. On Thursday, the Shanghai Index climbed 5.4%. It was up another 5% on Friday.
The biggest news today was the arrest of nearly 200 people for reportedly spreading false rumors about China's stock market in recent months.
The most high-profile arrest was that of journalist Wang Xiaolu, who writes for Caijing Magazine, a financial publication. China's state media said in a statement today that Xiaolu has been placed under "criminal compulsory measures for suspected violations of colluding with others and fabricating and spreading fake information on securities and futures market."
According to the state media, several government officials have been arrested for bribery and fraud. One of China's top investment banks, Citic Securities, saw four of its employees arrested today as well.
Global markets were also lower Monday after the drop in Chinese stocks. The Dow Jones Industrial Average dipped 92 points in early trading. The index is now down 7.2% in 2015.
The Stoxx Europe 600 was down 0.4%, while Germany's DAX slipped 1%.
While the markets ended last week on a high note, Money Morning Capital Wave Strategist Shah Gilani says we're not out of the woods yet.
"That down draft was quite frightening," Gilani said on FOX Business' "Varney & Co." today. "We've got a long way to go before we clear the air here."
While many investors are worried about China's stock market and its impact on U.S. markets, you don't have to panic.
Watch the video for an explanation of China's stock market crash, plus how investors can protect themselves – and even profit – from these events… 

Follow us on Twitter @KyleAndersonMM and @moneymorning.
Like us on Facebook: Money Morning.
Protect Yourself from a Total Market Collapse: According to CIA Asymmetric Threat Advisor Jim Rickards, there are five "flashpoints" that signal the death of the U.S. dollar and a complete economic collapse in the United States. Here's how you can protect yourself, and your money, before it's too late...