Another China stock market crash happened again today (Tuesday) as the Shanghai Composite dropped 6.4% to close at 2,749.79.
The drop in China's stock market was attributed to a renewed slide in oil prices, and mounting concerns about capital outflows ignited a late-session sell-off and sparked investor panic.
The crashing Chinese stock market has had a major impact stateside, with the Dow Jones Industrial average falling 7.5% to open 2016. That's why we're talking with Money Morning experts about what a China stock market crash means for your money.
But first, this is what caused another China stock market crash today...
By falling 6.4% today, the Shanghai Composite Index posted its lowest close since December 2014.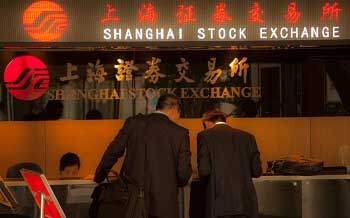 It also marked the index's largest one-day percentage loss since Chinese regulators did away with circuit breaker mechanisms on Jan. 8. The system, put in place at 2016's start, was aimed at calming jittery markets and reducing volatility. Instead, the circuit breakers were blamed for bursts of sudden selling.
The Shanghai index now sits 47% below its June peak. The smaller Shenzhen Composite Index and China's Nasdaq-like ChiNext benchmark suffered steeper losses of 7.1% and 7.8%, respectively.
China's panic selling Tuesday followed data showing capital outflows surged last month. Outflows jumped nearly $50 billion month over month in December, with the estimated 2015 total reaching a record $1 trillion. That is more than seven times higher than all of 2014, according to Bloomberg data dating back to 2006.
"The inability to control capital outflows is the typical sign of crisis in emerging markets," Nathan Griffiths, a senior emerging-market equities manager at NN Investment Partners in The Hague, told Bloomberg. "Given the importance of China to both emerging markets and the global economy, a China crisis would be pretty horrible."
Investors in China shifted to near-crisis mode Tuesday after government officials failed to step in and support markets with additional easy money measures. China cut interest rates six times in 2015, and lowered reserve requirements several times in attempts to inject calm into markets and boost growth.
Here's what today's Chinese stock market crash means for the global markets and your money...
The Impact of the China Stock Market Crash
Global markets dropped Tuesday in the wake of China's stock market crash.
Japan's Nikkei 225 declined 2.4% to close at 16,708.90. Hong Kong's Hang Seng Index dropped 2.5% to 18,860.80. The Hang Seng China Enterprises Index of Chinese firms trading in Hong Kong sank 3.4% at 7,895.16. That benchmark hit a closing low of 7,835 last Thursday, and currently trades at its lowest levels since 2009.
European markets were in the red in afternoon trading. However, U.S. markets were higher Tuesday on solid earnings reports and strong housing data. The Dow Jones Industrial Average was up more than 200 points in morning trading.
Still, markets around the world will remain volatile. Concerns about low oil prices, rising interest rates from the U.S. Federal Reserve, and the slowdown in China could all contribute to the markets falling further.
According to Money Morning Global Credit Strategist Michael Lewitt, there were several factors over the last two years that have created this downward pressure on the markets...
"China is a house of cards whose debt-engorged economy hit a wall in mid-2014 after seeing its total debt grow from $7 trillion in 2007 to $28 trillion (it is now probably over $30 trillion)," he said. "This then caused global commodities markets, which were inflated by the Chinese debt explosion, to collapse."
He continued...
"The last piece of the puzzle was the end of the Federal Reserve's quantitative easing (QE) program in October 2014 and the beginning of its effort to raise interest rates in 2015, though this didn't occur until last December and is more likely than not to be reversed in 2016 if markets continue to sell off and the U.S. economy continues to weaken."
These drops and the likelihood of more selling pressure have many investors panicked. That's why we developed a complete 2016 bear market investing guide so you can protect you money, and even profit, when the markets are falling...
Stay informed on what's going on in the markets by following us on Twitter @moneymorning or liking us on Facebook.
Related Articles: