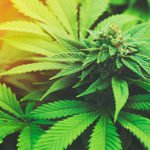 Full cannabis legalization has never been more promising than it is now. The pieces are slowly but surely falling into place and bringing us closer... and closer.
The Judiciary Committee of the U.S. House of Representatives approved a bill that would take cannabis off Schedule I of the Controlled Substances Act.
Now, that bill will go to the full House of Representatives, where it has a real chance of passing.
Committee Chair Jerrold Nadler's Marijuana Opportunity Reinvestment and Expungement Act (MORE Act) would effectively legalize cannabis for recreational use in any state that allows it.
What's more, it would gather a 5% sales tax on cannabis sales, with the money going toward job training and legal assistance to those whose lives have been adversely affected by the government's long war on drugs. It would provide for expungement of the records of people convicted of cannabis-related "crimes" and require federal agencies to adjust to reality by, for example, not denying security clearances based on cannabis use.
This is a very good bill. If it passes, it would be good for the industry, for those who paid dearly during the years before cannabis was legal, and for the country.